St Mary's, Isles of Scilly
Halangy porth
Halangy porth is a small cove bounded to the west by the Atlantic and nationally significant archaeological remains to the north, east and south. These remains are what is left of the 'later' settlement, relocated here c.400 BC due to the collection of dune sands on the original settlement (Ashbee et al 1996; 11). The original settlement has largely been destroyed by rising sea levels but over the past century the remains of the earlier village have been noted in the cliff. Middens, structures, pottery and a possible cross section of a chambered cairn have all been recorded in an unsystematic way. In 1976-77 a small targeted excavation was conducted on this site which provided further evidence of the earlier settlement. As part of the CITiZAN project we will be identifying whether any archaeological remains of this settlement are still in place.
The Later village, whilst not under imminent threat, lies between 70-250m from the current coastline and therefore lies within the remit of the CITiZAN project. Halangy Down contains the archaeological remains of the following phases of land use can be identified:
Ancient field systems which are revetted with stone
Small stone domestic structures
Chambered cairns and cists
Courtyard and associated buildings
Oval building
Here CITiZAN will be working with the existing community monitoring team on the Isles of Scilly.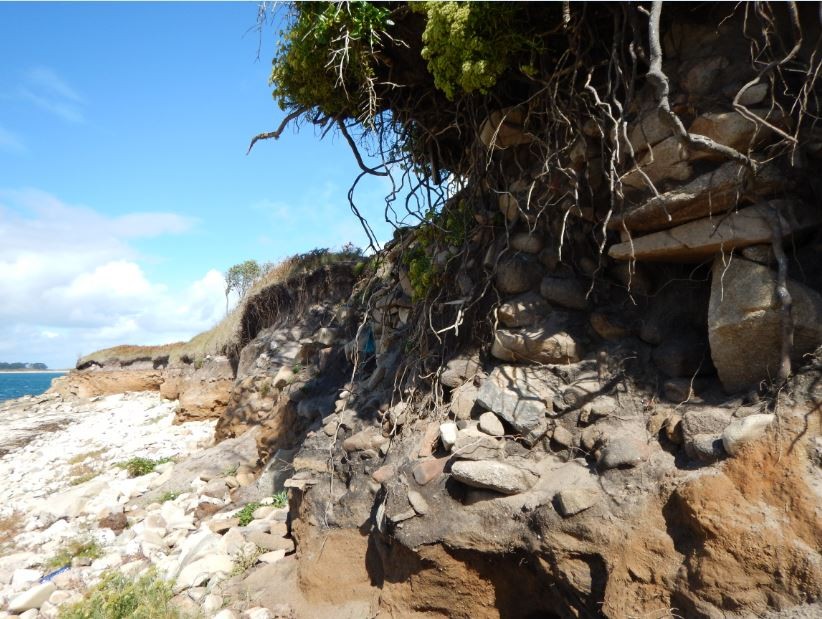 Porthcressa
Porthcressa is a cove on the south side of the Island of St Marys, Isles of Scilly. The area of interest lies on the east of the cove where evidence has been identified relating to Bronze Age settlement and funerary monuments and Roman funerary monuments. Rescue excavation has been partially carried out on the cists of the site but one of the research themes identified during the Isle of Scilly Rapid Coastal Assessment (RCZA) was the analysis and publication of the above.
A series of hut circles dating the Bronze Age have been identified both through aerial survey and site walkovers. In 1984 a total of four huts were recorded in the cliff face; a revisit occurred in 1988 and over 13 m of continuous occupation material was identified (Cornwall CC HER 2015, 7581.03). Artefacts recovered from this site over the years such as pottery and querns suggest that this was a domestic site.
Currently there is no evidence for Iron Age occupation at Porthcressa. During the Roman period the site is then used for burial; a single Roman cist is known from this site. First identified in 1990 and excavated in 1994 the cist contained fragmented human remains which are considered to be a crouched inhumation burial (Cornwall CC HER 2015, 7581.07).