Palace Quay, Erwarton
Situated directly at the end of a former track way lie the remains of a large mid-18th century (although possibly earlier) jetty structure known as Palace Quay. Close by and resting atop the current cliff line is the suspected location of St Clements Chapel (date as yet unknown), the remains of which are now slowly being eroded by the diminishing cliff. CITiZAN aims to survey the Palace Quay to understand more about its function and relation to the track way above.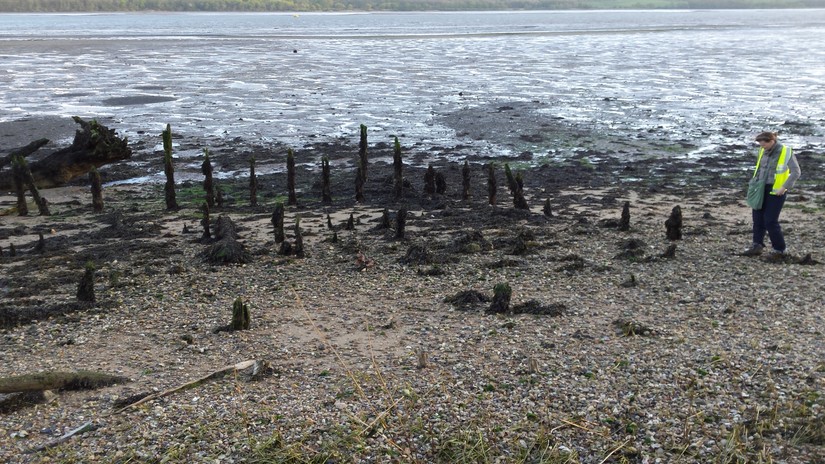 Directly opporsite and around 75m into the estuary on the low water line can be seen an alignment of posts identified in the Rapid Coastal Zone Assessment Survey of 2008 as being a potential fish trap (date unknown) around 50m in length. During our visit in 2015 this visible line had stretched to over 100m and is indicative of the nature of tidal erosion in the Stour. A recently exposed Saxon fishtrap at Holbrook bay 5km west of the site measured 300m in length and suggests that there was an active fishing industry in the area. A detailed survey of the posts will prove difficult due to thick mud however the use of an SUAV may make this survey a reality. With local guides the team hope to obtain a sample from the alignment for dendro-chronological dating.
Both jetty and cliff are being eroded by the daily tidal scour of the Stour. Whilst variations in the height of low water can be considerable the exposure of another 50m of posts in the estuary over a six year period suggests that there is significant erosion both within the estuary and indeed the estuary banks themselves.