Chichester Harbour
Chichester Harbour is an Area of Outstanding Natural Beauty (AONB) which straddles the boarders of West Sussex and Hampshire, recognised for both its natural and historic environment. Today it is a relatively quiet harbour but it contains a wealth of evidence which demonstrate its importance to past societies both in terms of exploiting its natural resources and its sheltered position on the south coast.
Some of the earliest evidence for human activity in the harbour is of Mesolithic flint working. The harbour would have looked very different at this time, consisting of deep valleys initially surrounded by open grassland which later gave way to pine forest making it an attractive place for hunting, fishing and foraging. Although there is very little evidence from the Mesolithic the continued threat from erosion has the potential to expose further in situ archaeology from this period. Rising sea levels and clearing of woodland altered the landscape in the Neolithic. Again archaeological evidence is sparse with just a few scatters of flints having been found.
Finds from the Bronze Age include scatters of flint tools, hoards of palstaves and a wooden structure on the north coast of Hayling which could have been a wharf or causeway. Iron Age sites have also been found: a hillfort is situated on Hayling Island. An important Iron Age coastal industry in the harbour was salt working.
Much of these sites are now threatened by coastal erosion; these include the west coast of Chidham, Hayling Island and the Thorney Channel.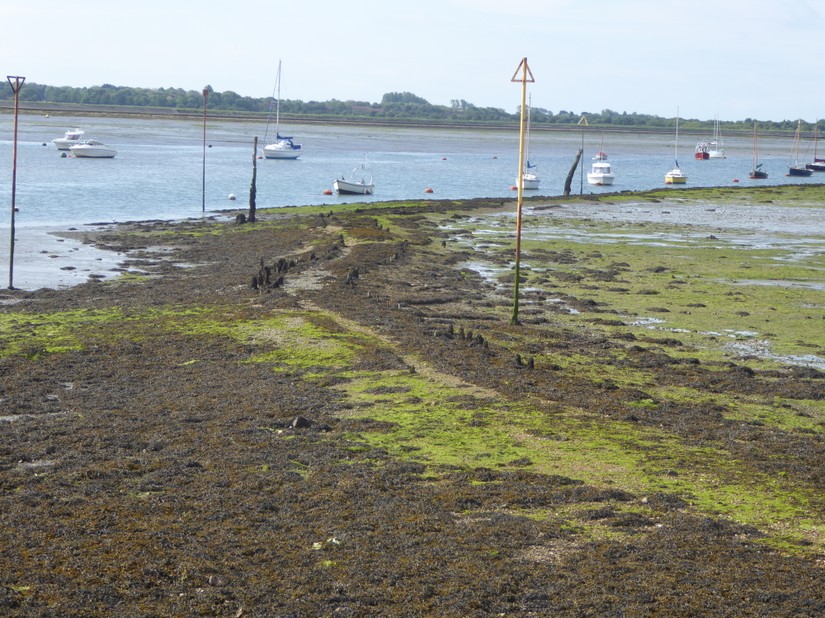 The harbour played an important role during the Roman period, used to transport goods and materials needed to build Fishbourne Palace. Within the harbour, particularly around Bosham, Roman material has been recorded to be eroding from the banks. Salt working activity is also thought to have continued with remains discovered around Chidham and Thornham Boat Yard.
Medieval structures and artefacts have been recorded from the harbour. The Wadeway, which is still visible today was built to link the mainland with Hayling Island. By the post-medieval period archaeological evidence demonstrates the importance of the salt and brick industry, oyster farming and fishing to the local economy. Evidence includes roads, canals, mills, causeways and oyster beds, such as Fisherman's Walk in Emsworth, Prinsted oyster beds and Fowley Island.
The majority of evidence from the modern period relates to WWII defense structures many of which are located on Thorney Island and include pill boxes and gun emplacements.
Many of these sites are being affected by erosion, changing sediment levels and anthropogenic threats.