Our fragile island heritage
The coast of England is under constant threat from wind, waves and winter storms. These threats wreak havoc on England's varied coastal and intertidal heritage, not only exposing these sites but washing them away before they are ever seen.
The Coastal and Intertidal Zone Archaeological Network (CITiZAN) has been set up in response to these dynamic threats to our island heritage. We are a community archaeology project working in the areas of England exposed at low tide but covered at high tide. We are actively promoting site recording and long-term monitoring programmes led by our active volunteers.
CITiZAN: as seen on TV!
Did you catch CITiZAN on Britain at Low Tide? Our team of coastal archaeologists along with our amazing volunteers spent the summer of 2016 filming with Tori Herridge, Alex Langlands and Tern TV now on Channel 4!

If you'd like to know more about the CITiZAN sites featured on Britain at Low Tide, have a look at our online resources: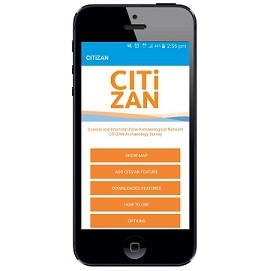 Adopt your coastline!
Want to get involved? Download the CITiZAN app for your smartphone and monitor the fragile heritage on your local foreshore. With nothing more than the phone in your pocket, you can locate and monitor at-risk archaeology with your smartphone!
Register as a CITiZAN surveyor and you can locate and monitor at-risk archaeology with your smartphone!
Reading this on your phone? Click the button below to get the app!