Auburn Sands, Bridlington
Bridlington Bay in the East Riding of Yorkshire, was a prime target for invasion during the Second World War and Auburn Sands forms part of the northern sweep of the Bay. A double layer of defences was constructed running around the shoreline. These consisted of an outer crust of concrete pillboxes, including the unique 'eared pillbox' designed to house Vickers machine guns, and searchlight emplacements, interspersed with ditches, weapon pits, anti-tank blocks and barbedwire entanglements.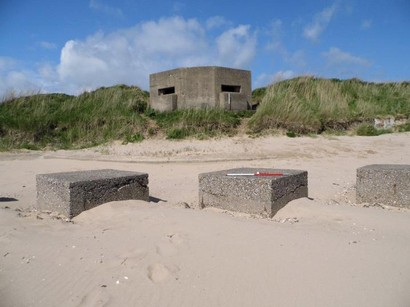 An inner crust consisting of larger pillboxes was constructed a few hundred metres inland, separated by a natural stream, which was augmented to become an anti-tank ditch. Behind these pillboxes were a series of anti-aircraft obstacles designed to prevent gliders landing in the fields to the rear of the defensive line.
This defensive barrier was constructed across a relic agricultural landscape originally laid down during the Iron Age consisting of rectilinear enclosures and ditches. More recently this landscape consisted of medieval farmsteads, churches and villages. These are all able to be seen today by earthworks and spreads of pottery dramatically eroding into the sea.