Porlock Weir
The survey of the submerged forest remains at Porlock Weir was undertaken by Lauren Tidbury and Alex Bellisario as part of a CITiZAN training session with members of the public. The remains of the forest have been known since at least the late 19th century and the bay along with the marshland were subject to detailed investigation in the 1990's (Canti et al 1995, Jennings et al 1998). The site is known to be affected by erosion and changing sediment levels and was therefore selected as a monitoring site for the project.
The objective of the survey was to train local volunteers to monitor the site and to record the extent of the submerged forest. All tree remains were plotted using a handheld GPS and photographed, it was also planned to record the exposed peat deposits but due to time constraints with the tide this was not possible. Two timbers were also selected for more detailed recording to train the volunteers in offset survey techniques.
The site extends for an area of approximately 180 metres east to west, by 120 metres north to south. A total of 23 timbers were recorded, these ranged from large tree stumps and roots to small trucks and branches. A measured drawing of two of the timbers (CITiZAN reference 82036 and 82037) was carried out by the volunteers at a scale of 1:10 (82036) and 1:20 (82037). Nearby peat was also plotted on the drawing of timber 82037. The site is partially covered by sand and shingle.
The location and a photograph of each timber has been sent to the local volunteers who will now be able to monitor any changes, plotting any newly exposed timbers and any changes to known timbers.
Within Porlock Bay are several other archaeological features which were photographed during the training session and will be monitored by the local volunteers, this includes two large v-shaped stone fish traps, a WWII pillbox and a 19th-century boathouse.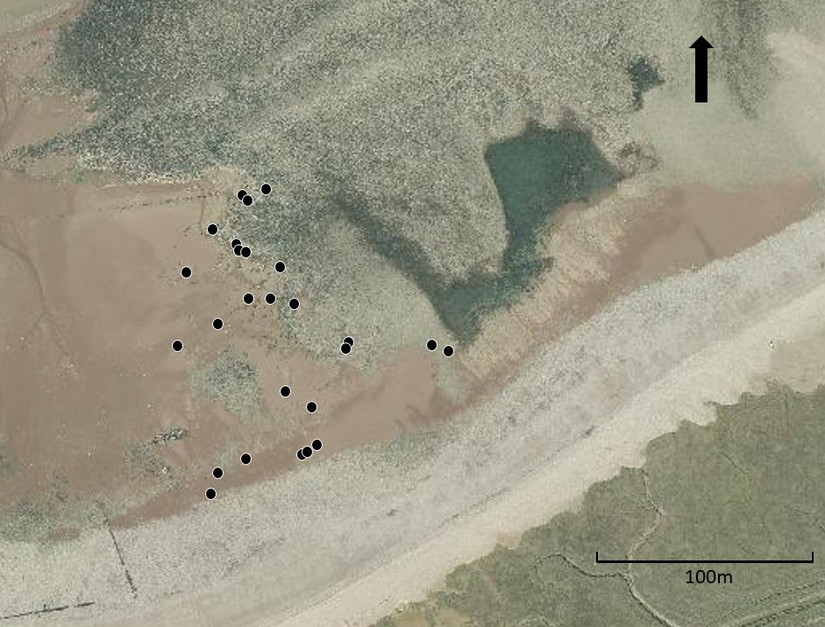 Location of the timbers plotted using a handheld GPS. Aerial photograph courtesy of the Channel Coastal Observatory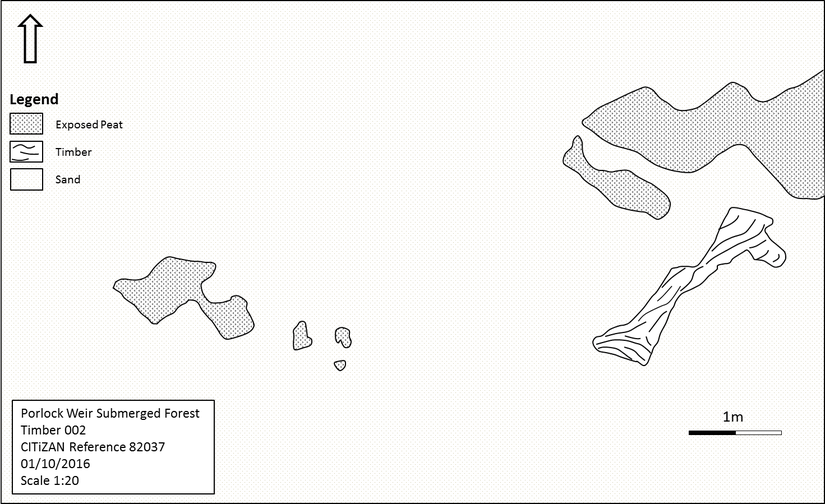 Measured plan of Timber 002 (82037) and surrounding exposed peat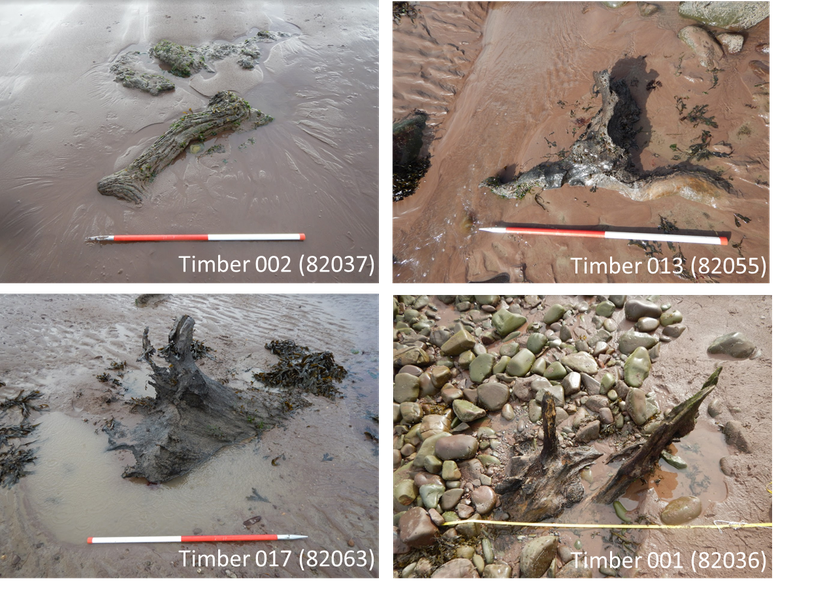 Four of the twenty three timbers recorded
If you would like to find out more about the features we have been recording or wish to submit your own survey on the remains then visit our interactive map
References
Canti, M., Heal, V., McDonnell, R., Straker, V. and Jennings, S. 1995. Archaeology and Paleoenvironmental evolution of Porlock Bay and Marsh, Archaeology in the Severn Estuary, 6, 49-69.
Jennings, S., Orford, J. D., Canti, M., Devoy, R. J. N. and Straker, V. 1998. The role of relative sea-level rise and changing sediment supply in Holocene gravel barrier development: the example of Porlock, Somerset, UK, The Holocene, 8 (2), 165-181.
Lawrence, T. 2010. Holocene sea-level changes in the Bristol Channel - Evidence from Porlock, Somerset, UK. The Plymouth Student Scientist, 3 (2), 233-280.