Gosport, Hampshire
Gosport is most widely known for its military history. Gosport was first fortified on the orders of King Charles II in 1677 where a rampart was constructed as was Fort James on Burrow Island (1768) (Lambert 2015). Fort James had a relatively short history being decommissioned due to its ruined state. Fort James has been subject to intermittent investigation by Clanfield University which has been associated with the identification of human remains on the small cliff and beach of Burrow Island by locals.
Sequentially more and more fortifications and military bases were constructed in Gosport, amongst which was Priddy's Hard. Completed by 1756 and by 1771 the gunpowder stores were relocated from Portsmouth and Priddy's Hard began its history as a Royal Naval Armaments Depot. The site continued to be altered to suit Naval needs until its final decommission in 1988 by RNAD Gosport relocated (Explosion 2013).
The south of Priddy's Hard is bounded by Forton Lake, a tidal lake which contains the remains of over twenty vessels. From 2006–2009 the area was part of a large project called the Forton Lake Archaeology Project, in which community archaeologists investigated not only the vessels but the changing landscape and how the area developed.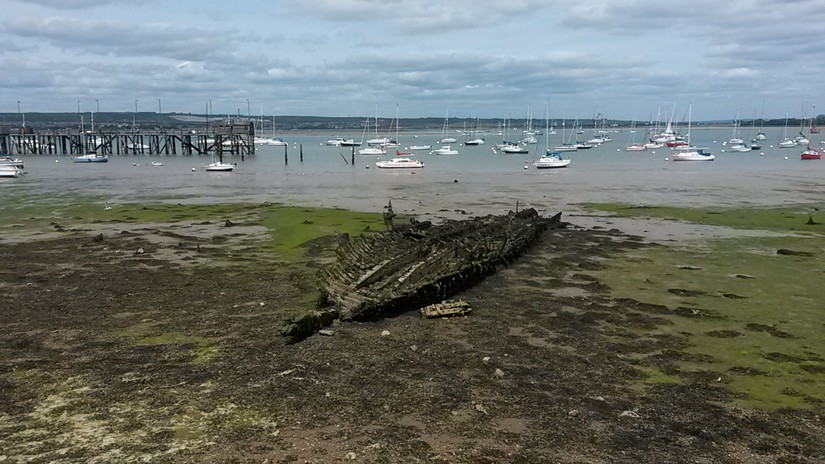 The earliest evidence from Forton Lake are several early Bronze Age scrapers. Later evidence comes from the tidal mill which dates to the medieval period and by the post-medieval period the lake was being used to house prisoners of war. After the second World War, many vessels were abandoned in the lake and the area was no longer used commercially or by the military.
There are a huge variety of vessels in Forton Lake, including ferries, wooden barges, metal barges, lifeboats as well as numerous WWI and WWII vessels including minesweepers, landing craft, pinnaces and even a bomb scow.
Evidence of this rich military history is found all along the foreshore of Gosport, with vessel remains, jetties, hards, slipways and numerous associated buildings, many of which are being eroded away.