The Barge Graveyard, Maldon
At the most easterly point of Promenade Park lie the remains of around 15 vessels, in an area known locally as the Barge Graveyard. This is where vessels were brought to be hulked i.e. stripped of useful parts. Lying in the Graveyard are the remains of Thames sailing barges British Lion, Vicunia, Pretoria, Mamgu; a lighter; an Admiralty launch, a fishing vessel built in either Scandinavia or Belgium as well as several other vessels. The site, therefore, provides a fantastic opportunity to study types of vessel construction.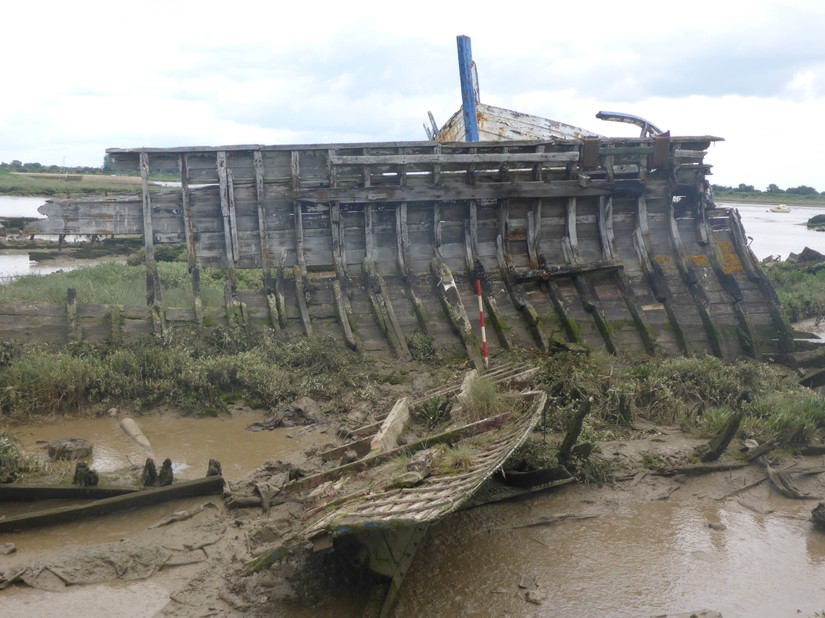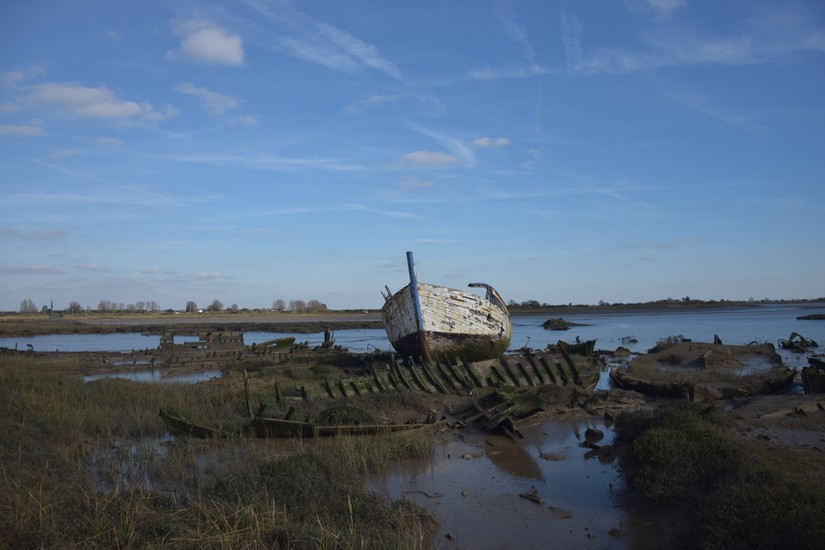 The site lies at the edge of the expansive mud flats that make up this part of the Blackwater estuary. A wealth of biodiversity on and around the hulk remains means they are at risk not just from the daily wash of the waves but from the plants and animals that inhabit this environment. The ongoing degradation of the timbers through exposure to the elements coupled with the proximity of similar vessel types provides a rare opportunity to examine the way vessels erode over time in these environments. Sometimes this erosion can be quite dramatic. A comparison of the two images of the side of an unknown vessel, above, taken in June 2016 and February 2016 shows what a series of extreme high tides can do and the necessity of recording remains before they are lost.
The barge remains have been identified through work by the Society for Sailing Barge Research as well as other independent researchers. The CITiZAN, with help from MOLA experts, have used a small Unmanned Aerial Vehicle to produce a survey of the site as well and for a 3D model of the fishing vessel for volunteers to study. Thes will be invaluable for our work at the Barge Graveyard, providing us with views of some of the more inaccessible vessels as well as an overall site plan to work from as we record individual vessels.
Our work here will contribute to the aims of the East of England archaeological research framework: "a survey of the shipwrecks along the estuaries, coast and offshore is needed. The survey should be coupled with historic research and cross-reference to records of groups such as the Society for Sailing Barges [sic. The Society for Sailing Barge Research]".