North
The CITiZAN North team has two coastlines to cover: the north-east from Northumberland down to Lincolnshire and the Wash and the north-west from Cumbria down to Cheshire and the Dee. There is archaeology scattered all along these coast and the tidal estuaries. There are three RCZAs that cover this region; North-West, North-East and Yorkshire and Lincolnshire, all written between 2007-2012.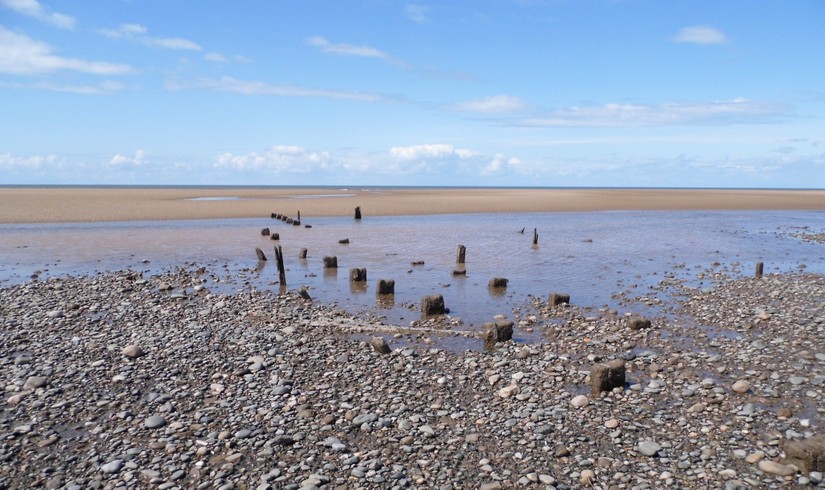 There are submerged landscapes in every region of the north, with submerged forest and peats shelves being identified at Cleethorpes, North Ferriby and Thornton Cleveleys to name a few. Prehistoric footprints have been found on both sides of the coast, at Formby (Lancashire) and at Low Hauxley (Northumberland); the former had human footprints as well as animal footprints at Low Hauxley, such as deer and auroch.
Numerous wrecked and abandoned vessels can be found on the foreshore such as at Cleethorpes, Thornton Cleveleys, and in tidal estuaries such as the Ribble (Lancashire), the Humber (Yorkshire) and the Coquet (Northumberland). Earlier vessels, from the Bronze Age, have been found at both Preston Docks (Lancashire), and more famously at North Ferriby on the Humber Estuary.
The north has a wealth of monastic sites, with well-known abbeys at Lindesfarne and Whitby which both suffered raids from Vikings in the 9th century. In the north-west, St Patrick's Chapel in Heysham, has eight rock-cut graves which are believed to be unique in the United Kingdom.
Military installation can be found all along the coast; with First World War archaeology including that found in Yorkshire at Bridlington, in the form of pillboxes and the sound mirror at Kilnsea. Elsewhere pillboxes, searchlight emplacements, anti-tank blocks and defences litter both coasts, with the Yorkshire beaches being considered one of the most heavily defended coastlines in Britain. Additionally, we find the remains of dozen of castles in Northumberland and several significant ones in Cumbria, such as Peel Castle. Even earlier are the remains of Roman signal stations dotted along the East Coast of Yorkshire.
In terms of industry there was an important alum industry at Whitby, Kettleness and Sandsend (Yorkshire) which have been extensively studied. At Silverdale, Jenny Brown's Point has a curious chimney which has been suggested to be linked with copper smelting; though evidence for this is limited. Moels on the Wirral (Cheshire) was significant for its link with international trade much earlier, with evidence suggesting trading links with Africa, the Mediterranean and Scandinavia in the 7th century and later. Skinburness (Cumbria) was a port founded in 12th century, by Edward I for his invasion of Scotland, but by 1305 was largely eroded away. Less significant in grandeur but vital for trade and industry during the Post-medieval period are the remains of piers at places such as South Landing (Yorkshire) and Thornton Cleveleys.
Numerous deserted medieval villages dot the coast of northern England. Such as the three ringing Bridlington Bay: one at Hidlerthorpe which is now part of a golf course and one at Wilsthrope and one at Aburn Sands which are both being actively eroded.
Yorkshire had many spa towns which were popular from the medieval period and even more so in the more recent past. Scarborough and Filey began to be popularised as spa resorts in the 17th century, expanding in the 19th century. Other resorts in North include Morecambe, Whitby and Bridlington.