CITiZAN sets sail for series 2 of Britain at Low Tide
08/02/2018 | Stephanie Ostrich
The CITiZAN team were keeping busy over the summer of 2017, filming at fabulous sites around the country for a new series of Britain at Low Tide! Be sure to tune your TV to Channel 4 on Saturday 17 February at 8pm.
This six-part series showcases the work the CITiZAN team in England, SCAPE in Scotland and other professional and community-led groups are doing to record our coastal heritage and the amazing stories they are revealing along the way. We are so excited to share our sites and the great results our volunteers have achieved through this series.
Be sure to join us on Twitter and Facebook on the night where we'll be sharing extra behind the scenes facts, photos and more using #BritainAtLowTide.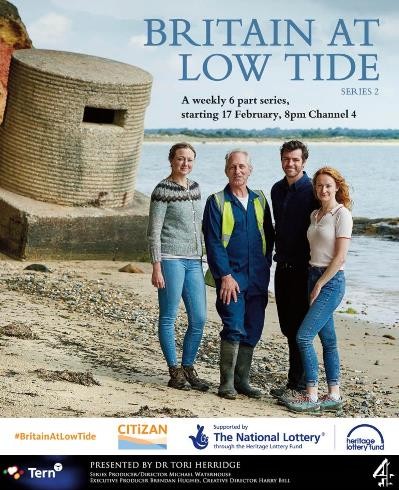 Episode guide:
1. EAST SUSSEX, 17 February, 8pm
In East Sussex Tori and the CITiZAN team explore the wreck of a ship that went down in the 1740s, discover a prehistoric well shaft, and investigate the tale of a harbour that took 63 years to build but only worked for four months.
Read more about our sites in East Sussex: the wreck of the Coonatto, the submerged forest at Pett Level, and the Bronze Age shaft at Belle Tout.
2. DORSET, 24 February, 8pm
Tori and the CITiZAN team visit Dorset where they reveal the story of the world's first aircraft carriers, they discover how this coastline played a vital role in D-Day, and they search for a unique and huge Iron Age monument that can only be seen – sometimes – for a few hours a year.
Read more about our sites in Dorset: Studland Bay, Middlebere Quay and Brownsea Island.
3. CLYDE, 3 March4, 8pm
In Glasgow Tori explores the river Clyde with SCAPE, finding a strange vessel on the foreshore that was instrumental in helping to create the city; she discovers a wall that changed the city forever, and an intriguing wooden structure that gives a tantalising glimpse into the world as it was on the River Clyde 2000 years ago.
4. THE SEVERN ESTUARY, 10 March, 8pm
On the Severn Estuary Tori Herridge and the CITiZAN team investigates a mysterious medieval ruin on a bleak island, a whole village that just vanished, and asks what brought Bob Dylan to the river Severn?
Read more about our sites in Somerset and along the Severn: fabulous river crossing of the Severn, Brean Down, Dunster beach, and Porlock Weir.
5. EAST YORKSHIRE, 17 March, 8pm
In Yorkshire Tori and the CITiZAN team try to work out what happened one night when a fishing trawler went wildly off course in the North Sea and discover how two ships made in Hull ended up on top of a mountain in Peru.
Read more about our sites in Yorkshire: Earles Shipyard in Hull, the Bronze Age landscape at North Ferriby, and fabulous military remains at Bridlington.
6. FIFE, 24 March, 8pm
On the Fife coast in Scotland Tori and a team of archaeologists from SCAPE search for an industry that once dominated the shoreline there, find stone carvings left by one of Scotland's oldest tribes, and learn about one of Britain's worst railway disasters.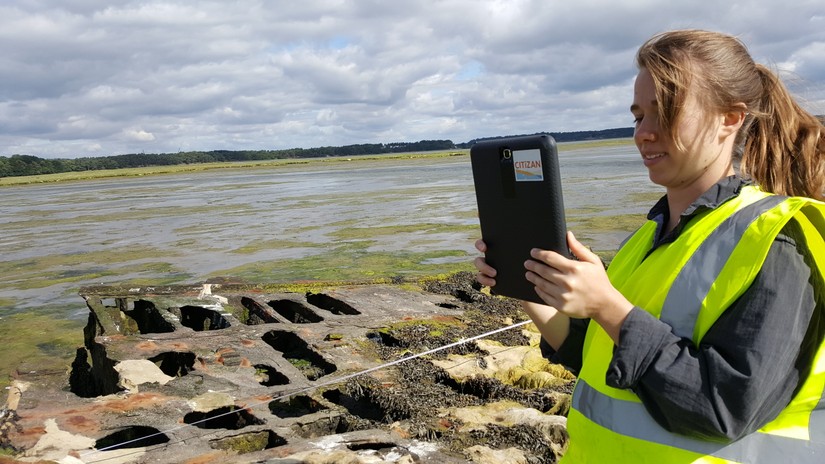 Now you can now locate and monitor at-risk archaeology with nothing more than the smartphone in your pocket! With CITiZAN's coastal archaeology survey app you can take our interactive coastal map with you in the field and record heritage on the go. CITiZAN's coastal archaeology survey app is free to download and is available for Android and Apple devices. Adopt a part of the English foreshore and champion your local heritage!
You will need to register as a CITiZAN surveyor, a three-step process. Be sure to check out our handy step-by-step guidance before you go out and about and please stay safe!
Reading this on your phone? Click the button below to get the app!


CITiZAN has received funding from the Heritage Lottery Fund, with match funding from The Crown Estate and National Trust and further support from Historic England. MOLA (Museum of London Archaeology) is leading the project with project partners the Council for British Archaeology and the Nautical Archaeology Society.