Recording the intertidal zone with your smartphone

Would you like to help us monitor England's coastal and intertidal heritage?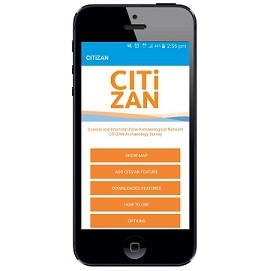 With nothing more than the phone in your pocket, you can locate and monitor at-risk archaeology on the go! Smart phones and tablets are powerful archaeological recording tools: with a camera and GPS facilities they are perfect for locating and recording new archaeological features.
We already carry this tool around wherever we go, so it is ideal for long-term monitoring of archaeological features at risk on England's coastlines and estuaries. With our CITiZAN coastal archaeology survey app you can take our interactive coastal map with you in the field and add and update heritage on the go.
How can I get started?
It is free to download, and is available for Android and Apple devices.
Reading this on your phone? Click the button below to get the app!


The CITiZAN coastal archaeology survey app is designed to work offline, as mobile coverage can be patchy in places along our coastlines. However, our app does require an internet connection in order to first log in and later upload your completed survey forms. We recommend that you only do this over a Wi-Fi connection especially if your mobile data plan is limited.
You will need to register - a simple two-step process!
Be sure to check out our handy step by step guidance before you go out and about and please stay safe!
Click the image below for a downloadable PDF guide: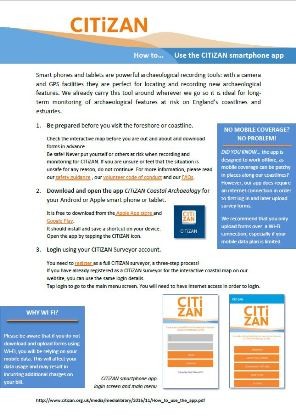 Add or edit Feature via our Website
If you don't have a smartphone, tablet or iPad you can still add and edit foreshore features. Explore our interactive map, using the hand tool to move around the map, and the i tool to select points on the map. Be sure to consult our guidance on how to add, edit and update the map.
---
If you have any questions about the app and long-term monitoring, why not check out our Frequently Asked Questions section!
Never put yourself or others at risk when recording and monitoring for CITiZAN. If you are unsure or feel that the situation is unsafe for any reason, do not continue.
For more information, please read our safety guidance and our volunteer code of conduct.