CITiZAN Conference: Turn the Tide
10/10/2015 | 9:15 a.m.
The Spa, Bridlington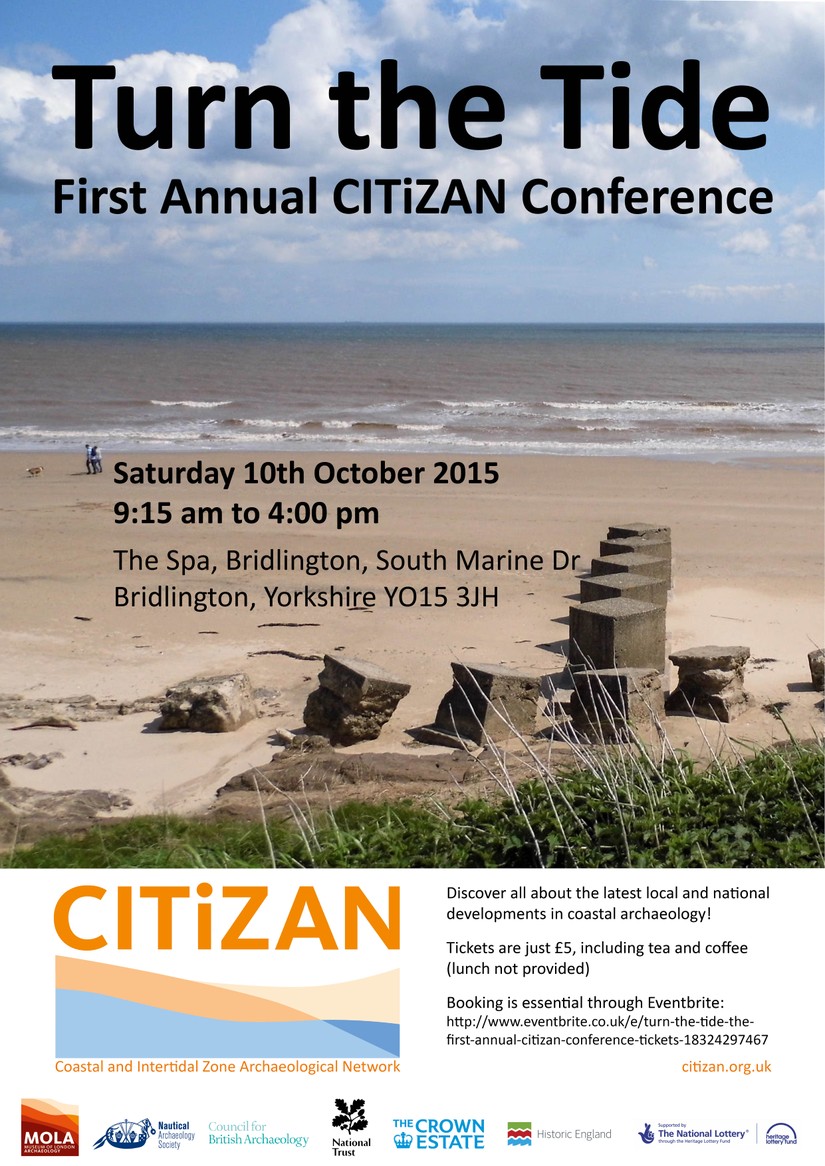 The First Annual CITiZAN Conference will be held at The Spa, Bridlington, on the 10th October. The day will run from 9.15am to 4.00pm.
The conference will include talks from a range of professional and volunteer archaeologists, covering a wonderfuly wide range of coastal and intertidal topics. These will include:
John Buglass discussing the overlooked archaeology of the Northeast's coastline. He will be covering everything from sea marks and stone quarries to rocket posts and the remains of the fishing industry.
Chris Robinson who will be talking about Spittals Rock. Local opinion has been divided on whether Spittals Rock is a natural outcrop, the remains of a Roman quay or a medieval harbour. Chris will discuss the results of the Filey Brigg Research Group's survey into the origins of the site.
Louise Martin is the Cultural Heritage Office for the Headlands to Headspace Project (H2H), based around the shores of Morecambe Bay. Louise will be describing the wide array of heritage projects H2H will be carrying out along the Bay's majestic coastline. Including investigations into the enigmatic industrial remains at Jenny Browns Point and the surveying of the complex millitary defences on Walney Island.
Richard Martin, a volunteer steward at St Peters church, Heysham and a CITiZAN volunteer, will be describing the beautiful Anglo Saxon and medieval ecclesiastical archaeology of Heysham Head. These sites include unique rock-cut graves, the 8th century chapel of St Patrick, the medieval church of St Peters and one of the best preserved hogback stones in England.
David Pybus is the honorary keeper of Whitby Museum; he will be discussing Whitby's Heritage Coastline.
Antony Firth will round off the day disccussing his exciting work into the the First World War wrecks of the East Coast War Channel. Dr Firth's talk will look at some of the hundreds of allied vessels sunk by the Imperial German Navy during the conflict.
The three CITiZAN teams will also be discussing some of their most intriguing discoveries from around the English coast and highlighting the exciting and interesting work the teams plan to carry out in 2016. A number of organisations will also have stalls at the conference for you to browse. These include the National Trust, the Nautical Archaeological Society and the Council for British Archaeology.
Tickets cost £5.00 and tea and coffee will be provided but delegates are asked to provide their own lunch. Lunch can be ordered on the day of the conference from The Spa's café or there are numerous shops and restaurants surrounding the venue.
Tickets are available at Eventbrite.