Sutton on Sea Colonnade 1930's to present date
17/02/2021 | Lianne Havell
The Colonnade at Sutton on Sea has been a big feature of the village since the 1930s along with the fountain, bowling green, pleasure gardens, paddling pool etc.
Some of the colonnade and surrounding area had to be rebuilt after the awful and tragic East Coast floods of 1953 - 31st Jan 2021 marking 68 years since the event.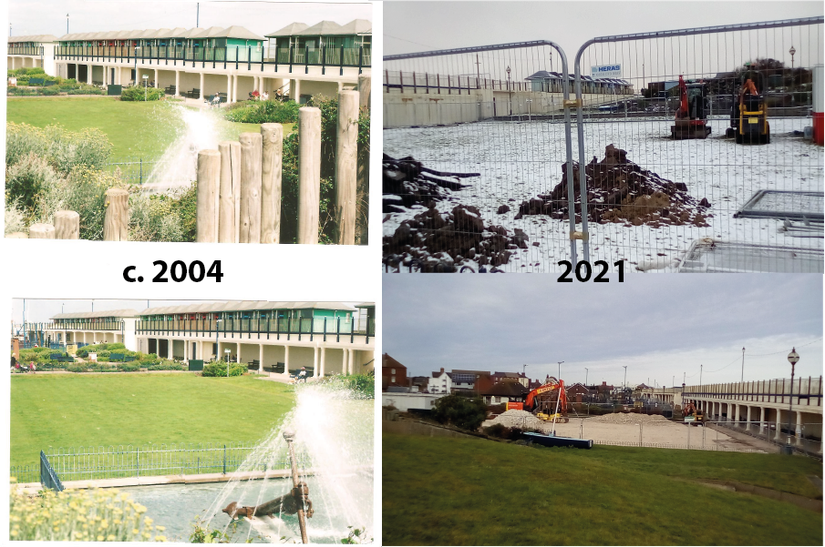 Shortly after this period it is believed that Dame Sylvia Crowe, a celebrated English landscape architect and garden designer who had been working in the area, was commissioned to work in Sutton on Sea and other local areas (Historic England, 2020).
During the week of January 16th 2021 the diggers and equipment moved in to start the demolishing of the colonnade and area. There is a plan for a replacement structure although it has caused many different village reactions - both for and against. The new plan includes an observatory, outdoor performance area along with a food and drink venue, pop-up trading and an art gallery - in my own personal opinion its awful and not going to be in keeping with what we are losing.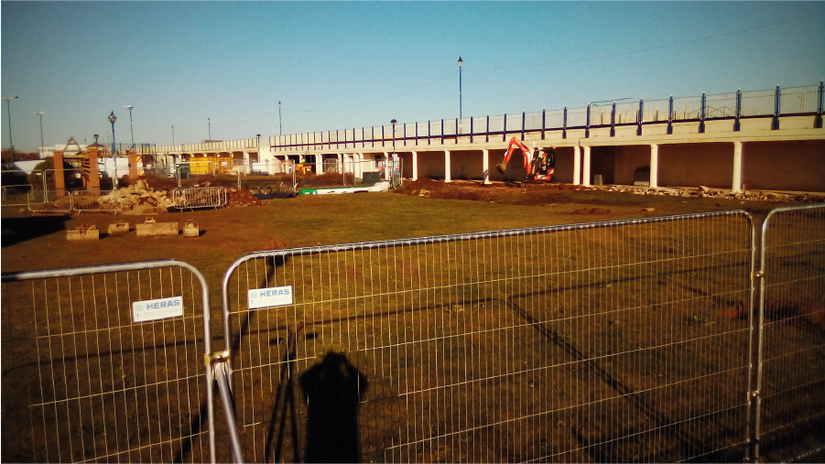 © Lianne Havell
I put up a post on Sutton on Sea Beachcare pages saying I was happy to start a scrapbook of this area for future history. It could include entries from local residents, people who used to live here, anyone who holidayed here etc. and that I would display it at a later date; obviously when all the current lockdown regulations were cleared. I have had a couple of entries so far.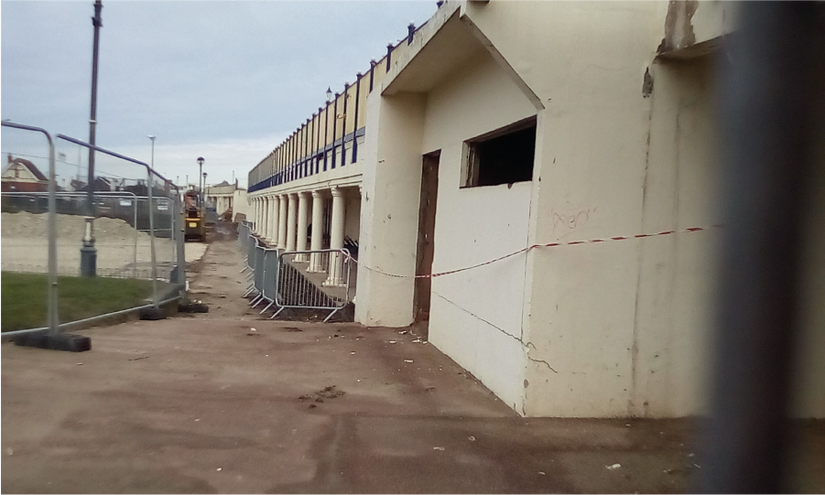 © Lianne Havell
Some local comments received so far include "its a massive shame that what many of us have grown up with will no longer be here", "a carbuncle", others "its a lovely place why change it" - have to admit I agree with that one, nice but not in keeping with a quaint village, why do they have to ruin the area and more.
From the photos you can see the difference and today sadly the Bowling Green has disappeared and is now a limestone chipped area with a couple of entrances at the front - it looks dreadful.
References and further information:
Historic England, 2020. Decision Summary: Colonnade at Sutton on Sea Pleasure Gardens. Accessed at https://www.heritagegateway.org.uk/Gateway/Results_Single.aspx?resourceID=5&uid=1472956 16/02/2021
There is also a good record of past phases and looks of the colonnade as part of The James Valentine photographic collection as well as Francis Frith and Britain from above "The Village and Sea 1930".