Incredible hulks and where to find them
19/06/2020 | Thérèse Kearns
Estuaries and creeks around the coast of England are littered with the remains of watercraft which have been deliberately abandoned when they are no longer perceived to be useful. The term 'hulk' is used to describe these vessels and it is their deliberate disposal which distinguishes them from shipwrecks which have been lost accidentally. In 2013 a survey by MOLA (commissioned by Historic England) identified at least 199 assemblages of hulked vessels all around the English coastline and this is by no means the complete record.
One such assemblage lies in Forton Lake, a tidal creek in Gosport, Portsmouth Harbour. The collection includes over 30 vessels of various shapes and sizes built roughly between the 1800s and 1960s. Each one has a unique story which illustrates the wide-reaching influence and significance of maritime heritage in this local area and beyond.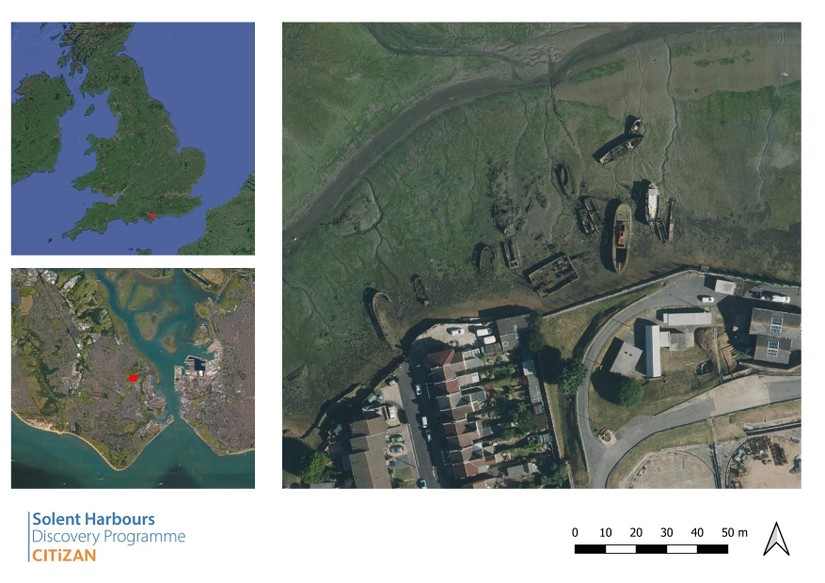 The area has seen much maritime activity since the establishment of Portsmouth's naval dockyard in the late 15th century (Beattie-Edwards & Satchell 2011). There has been at least one boatyard at Forton near Ferrol Road since around 1795 (Hampshire HER 55067). In Kelly's Directory for Gosport (1894, 452), Forton Lake is described as 'a large basin or creek of the harbour that accepts vessels of considerable burthen'. Its capacity for large vessels and discrete location made it an ideal place for the construction of boats and later for the abandonment of vessels.
When you step down onto the foreshore on the south-west bank and look east towards Portsmouth Harbour, you are met with an incredibly diverse collection of vessels set against the distant backdrop of the modern naval base - a view dominated by the distinctive outlines of Daring class destroyers and an occasional aircraft carrier or two.
The site was subject to an archaeological survey by the Nautical Archaeology Society, The Maritime Archaeology Trust and local volunteers between 2006 and 2009. The results of that survey were published in a monograph which provides an excellent baseline record of most of the vessels, however, there is still work to be done. (the monograph is available for purchase here).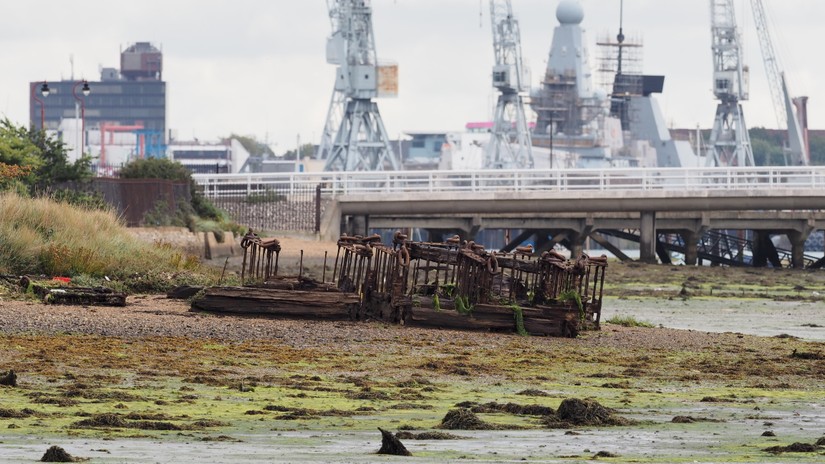 © CITiZAN
Back in October 2019, my colleague Grant wrote about one of his favourite vessels - a bomb scow (FL24). You can read Grant's blog here.
Two of my favourites are the former Medina Chain Ferry and Vadne. Both started out as civilian passenger ferries, but as we will see their stories did not end there and many adventures were had before they were finally abandoned in Forton Lake.
The Medina Chain Ferry was built by William White and Sons at the Vectis Works in Cowes in 1896. A steam-powered vessel, it was built for crossing the Medina River on the Isle of Wight where it was used between 1896 and 1909. It was replaced as the river crossing but remained in Cowes where it functioned as a spare floating bridge until 1925 when it was purchased by yacht designer Uffa Fox for £150. Fox modified the structure by building a roof over the central section to create a workshop space and retained the two ramps as a gangway to the shore and a slipway to launch boats. He removed the boiler and steam engine and used the space to create an office and bedroom. The passenger cabins were converted into a kitchen, bedroom, dining and drawing rooms. It was moved to Forton Lake and stripped of its parts in 1948. The current remains consist of the outer iron shell of the hull (length 14.4m, beam 8.93m) and a small section of wooden deck in the port bow area (Beattie-Edwards and Satchell 2011, 32). In 2016 a drone survey was conducted by Stuart Fitt and a 3D model of the vessel was created.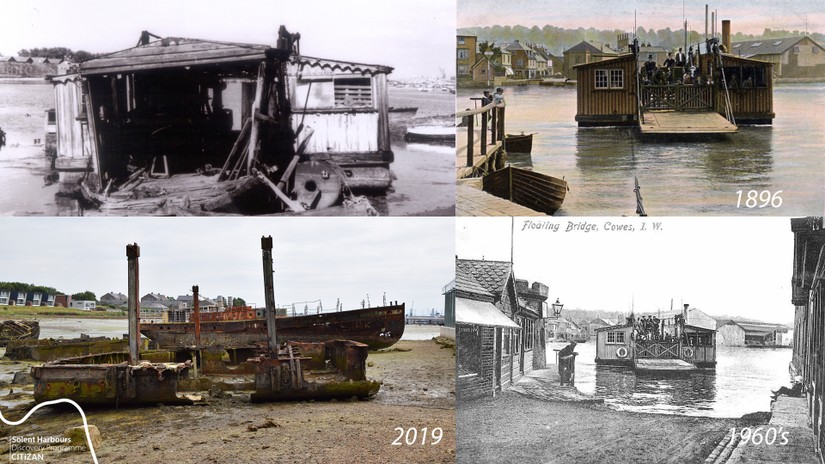 © (CITIZAN & NAS)
Vadne was built in 1939 by Vospers of Portsmouth for the Portsmouth Steam Launch and Towing Company. She was initially used as a foot passenger ferry in Gosport until the outbreak of the second world war when she was requisitioned by the Royal Navy as an examination vessel. In 1943 she was moved to Freetown, Sierra Leone for harbour service. In 1946 she returned to resume service as a passenger ferry in Gosport. In July 1957 she was involved in a collision with HMS Redpole which resulted in one fatality and severe damage to her hull. The damage was repaired and she continued life as a ferry until 1965 when she was sold to the Gosport Cruising Club as a floating clubhouse. She continued in this role until 1981 when she sank in her moorings due to heavy corrosion (Beattie-Edwards & Satchell 2011, 34). Attempts were made to restore her, however, she sank again in 1983 and was subsequently moved to a nearby boatyard. She remained there for 17 years until she was finally abandoned in the spot where she still lies today on the south bank of Forton Lake.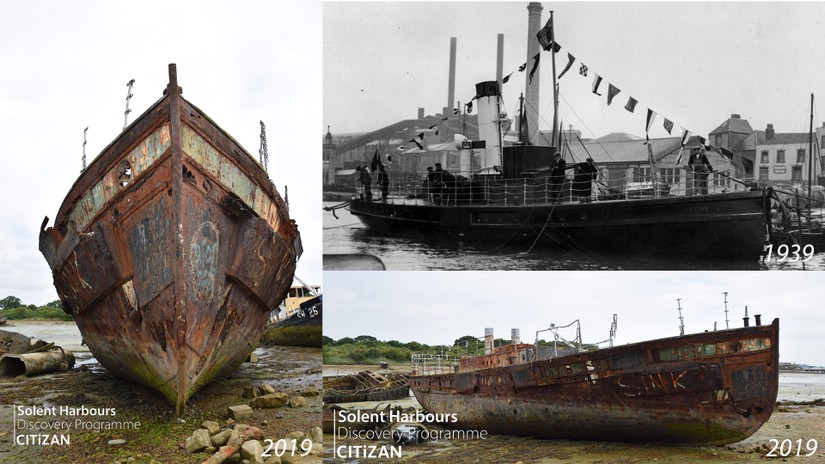 © CITIZAN & NAS
These are just two of over 30 vessels all of which have fascinating stories. While sites such as this one are often described as 'ships graveyards', they should not be forgotten as they hold invaluable information which will be lost as the vessels gradually decay into the mud.
There are hundreds of similar sites all around our coastline and we must get out there and record them before they are lost. The CITiZAN Solent Harbours team had hoped to conduct survey work at Forton Lake in collaboration with the Centre for Maritime Archaeology at the University of Southampton in late June and July this year. This has had to be postponed for the moment, but as soon as we are able, we will be looking for volunteers to come and help us with that survey. Keep your eyes on our events page for more information in the coming months.
In the meantime, if you have any information or photographs of any of the vessels at Forton Lake then please do get in touch (tkearns@mola.org.uk).
If you missed our recent webinar from the South Devon Rivers Discovery Programme featuring another fascinating assemblage of abandoned boats in Old Mill Creek on the River Dart, you can watch it now on our YouTube channel.
References
Beattie-Edwards, M. & Satchell, J., 2011. The Hulks of Forton Lake, Gosport, BAR British Series 536.
1894, Kelly's Directory of Gosport, Alverstoke, Fareham and District.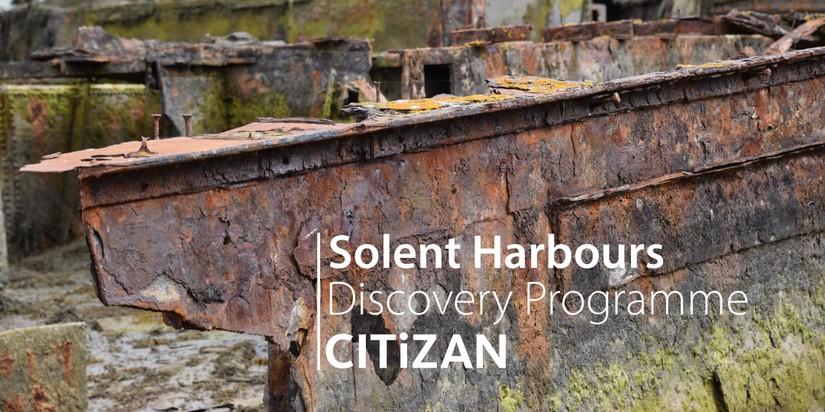 © CITIZAN