CITiZAN awarded COVID-19 NERC funding
05/06/2020 | Danielle Newman
During the time of COVID-19, a pandemic that will come to impact on every part of our lives not only now but for years to come, it's more vital than ever to find new ways in which to continue engaging with the wider community. Our amazing volunteer citizen scientists regularly work with us to conduct important surveys and studies concerning the fate of archaeological features and the impact of coastal erosion. Although much of the world has been on pause due to the coronavirus, this is not the case on the coast: erosion never stops.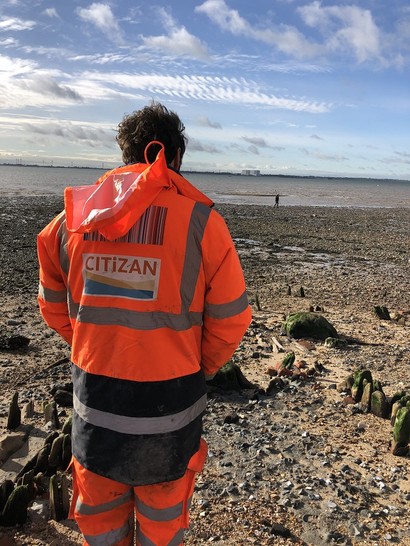 This is why we are delighted to have been awarded funds by the Natural Environment Research Council (NERC) to diversify our efforts to record coastal archaeology. Not only will this enable us to upskill our volunteer group and continue in our efforts to record sites that are threatened by coastal erosion, but it will also help us to tackle the impact of the coronavirus on our training and survey programmes, which were previously conducted face to face.
Starting now and continuing through to the spring of 2021, we will be harnessing local knowledge concerning the rates of historic coastal change in Essex to better inform regional flood resilience debates. This will, in turn, ensure that we can expand the research archive for both public and professional use. Using local contacts, we will work with Mersea Island Museum to collaborate with a wide range of residents, including farmers, oystermen, boat owners, bird watchers and coastal dog walkers, who will all bring their unique perspectives to the programme.
We will encourage our participants to provide data to record the changes to coastal habitats and heritage, both of which are threatened by accelerating coastal erosion. We will use this information alongside maps, photographs, documentary sources and oral histories to cover the changes from the 1920s until now.
We will build a picture of how and why the coastline is changing, and invite debate about such key issues for an island community. Alongside this, we want to introduce positive new approaches, which make the most of using digital technology for public engagement, to co-create an innovative environmental research project.
This is our first award from NERC, which forms part of UKRI (UK Research and Innovation), and exists to benefit people, economies and the environment across the UK. Our project is one of five which will look at the impact of the current pandemic and how this impacts on environmental research. We hope to make a significant contribution to the existing debate around the management of coastlines, decisions which can only be made with the benefit of detailed information and social advocacy. We want to play our part in the debate.
CITiZAN is a MOLA project, run in partnership with the Council for British Archaeology and the Nautical Archaeology Society. The new three-year project is possible owing to generous support from the National Lottery, with additional support from the Lloyd's Register Foundation, National Trust, Historic England and The Crown Estate.