You give me fever !
29/04/2020 | Grant Bettinson
Sadly, this is not a tribute to Peggy Lee's Fever,
although it does make good background music and a great hook in the current situation.
This blog is about fever hulks, particularly the fever hulks present on the Dart Estuary within the South Devon Rivers Discovery Programme.
A Fever Hulk is not an overly sweaty marvel character but rather a ship that is used to quarantine travellers and sick people from a population when they display symptoms or have confirmed cases of a particularly contagious and deadly disease. For this reason, they are more commonly referred to as quarantine ships, hospital ships, isolation ships but sadly these titles are not as catchy as the colloquial term fever hulk.
Now time for a little diversion for a bit of relevant historical tangent/summary…
Using specific ships to Quarantine people is a practice that had largely died out by the mid-20th Century due to improved health care and antibiotics. That was until the recent outbreak which inspired this blog. Although it was a practice believed to have died out it has been used as a last resort and pulled upon once again in the current pandemic.
Most recently the practice has seen a resurgence in attempts to control the spread of the Coronavirus. In the last month, Italy has moved 156 migrants from a German rescue ship to another vessel to be quarantined.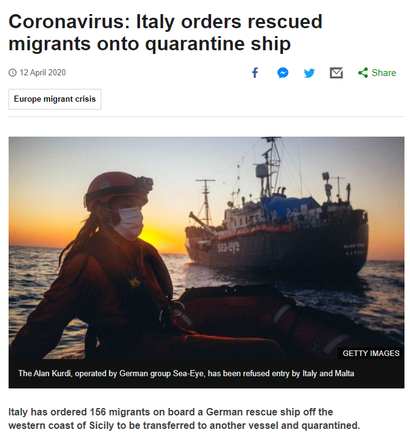 The earliest date of the practice is unknown, however, the term quarantine is believed to come from the Italian quaranta giorni meaning 40 days. 40 days is the time that ships coming from infected ports were expected to lie at anchor prior to being granted access in 14th Century Venice during a bubonic plague epidemic.
In the UK one early mention from the famous Samuel Pepys writing in 1666 talks about ships "performing quarantine" for 30 days in the Thames Estuary.
The practice of quarantining people on ships was used fairly consistently to combat outbreaks from the 14th century onwards until deemed largely ineffective by the 20th century when it was only used in extreme circumstances. The practice is simple, isolate and slow the rate of infection and has been used frequently to combat various infections over the course of human history. It also a principle I think we can all currently relate to.
© https://pbs.twimg.com/media/ETNnnbDWoAAduDq?format=jpg&name=small
The 14th – 16th centuries saw the first use and development of quarantine measures to slow and stop the progression of the bubonic plague, in the latter half of that period there was a larger concentration on controlling smallpox and the newly emerged Yellow Fever.
By the late 17th century in some colonies in America, health authorities introduced orders for mandatory home isolation for any person who had contracted smallpox the outbreak of which coincided with the arrival of new ships (Tognotti, 2013).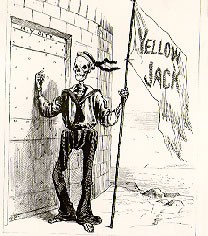 © Cornhill Mag (1892)
By the 18th-19th centuries the concentration had swung to cholera and yellow fever. By the early 20th century yellow fever was still prevalent and focus also turned to control the spread of Spanish influenza in the early 1900's.
It is these outbreaks of yellow fever and smallpox in the 19th – 20th centuries which relate to our two vessels and incredibly related to one another.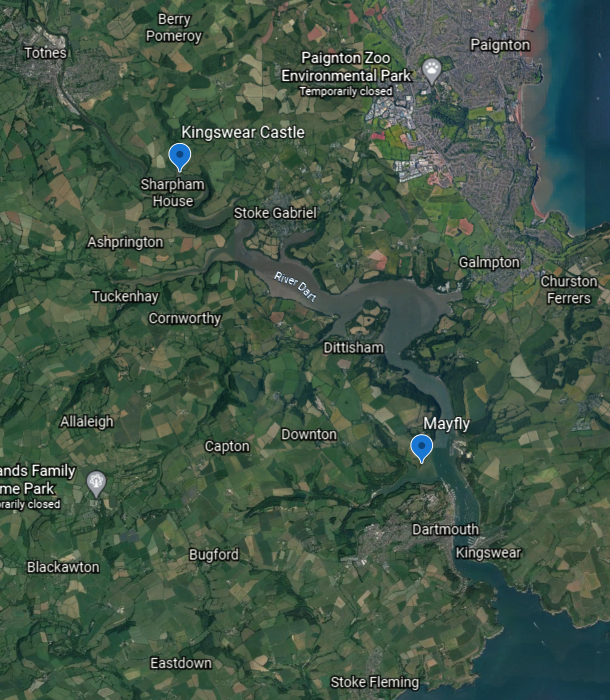 © Google
The first referred to as 'unknown steamer' in that intertidal archaeological bible "Lost Ships of the West Country' is what we believe could potentially be the remains of the 'Mayfly'. The vessel currently lies in Old Mill Creek on the Dart estuary in an area known as Rough Hole Point.
A sequence of outbreaks of smallpox in Dartmouth in 1868 and 1870 resulted in the building of the Dartmouth College Hospital in 1887. However, the hospital had no capacity to deal with infectious disease and plans for an isolation hospital had been blocked by a local due to it being too close to his residence.
In 1893 a decision was finally made to purchase the 'Mayfly' a paddle steamer from Liverpool for £700. The river ship was converted into a hospital/ isolation ship for £500 pound and could accommodate up to 25 patients.
A caretaker was appointed who along with his wife lived on board the vessel which was moored on the Kingswear side of the higher ferry. The caretaker was responsible for looking after the patients, general maintenance and ensuring the vessel kept to regulation.
In 1894 a regulation was introduced that the caretaker should fly a yellow flag whenever there was a case of sickness on board the ship with strict instruction that no one is allowed on board without the permission of the medical officer (Keane, 2017).
The vessel was mainly used by visiting boat crews but was occasionaly used by locals who had presented symptoms.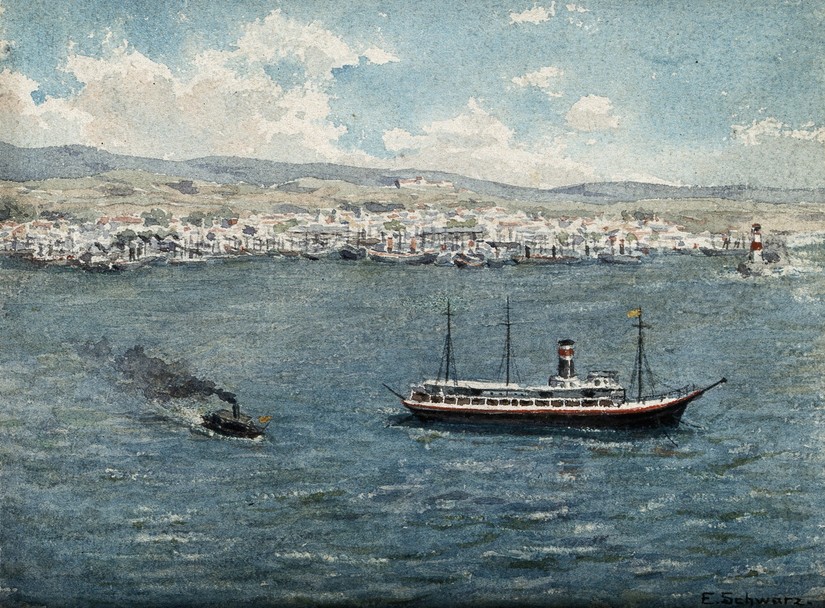 © Welcome Collection
By 1906 the vessel had detoriated and ceased to be seaworthy, to eak a little more life, she like so many vessels was beached and treated to the classic trick of being cemented. A process where cement is poured into the lower hull of between framing to briefly extend the life of the vessel. In 1909 permissions were given by the Raleigh estate to moor the vessel in Old Mill Creek.
Mayfly was used in an adhoc fashion from 1909 – 1916 when it broke loose in a gale and had to be remoored. Eventually in 1919 she was declared not fit for human habitation never mind a hospital by the Medical Officer for health Dr Harris who reported shocking conditions, including flooded rooms.
The need for a new hospital ship had not gone away by the outbreack of the First world War. A request for a new hosptial ship had been made in 1912, negotations to purchase a new ship 'Colleen' later renamed 'HMS Cuckoo' began in 1914 and continuted to be debated after the war until May 1922. Despite an admirlity ulitimatum demanding that the Port Sanitary Authority buy the ship within 3 months, it was sold for breaking in August of the same year. There is an irony in dragging your feet there.
So despite the Mayfly being declared an unhabitable hovel the vessel was still used as a hospital ship admitting cases in 1921 and still without a replacement all the way up to July 1923 when a ship with a confirmed case of small pox would appear to have forced the Port's hand.
In December 1923 the Mayfly was sold to Distin and Dorman, a boat breakers known to store vessels for breaking at Rough Hole Point. Now just known as Distins the family is based on the river Dart and run a succesful boat yard.
The big question for our Summer fieldwork at the creek is … is this the Mayfly?
Work is still ongoing but its position, condition when sold, general shape, oral history and profile would suggest it may be. Further research, oral history and survey will hopefully allow us to fully confirm this.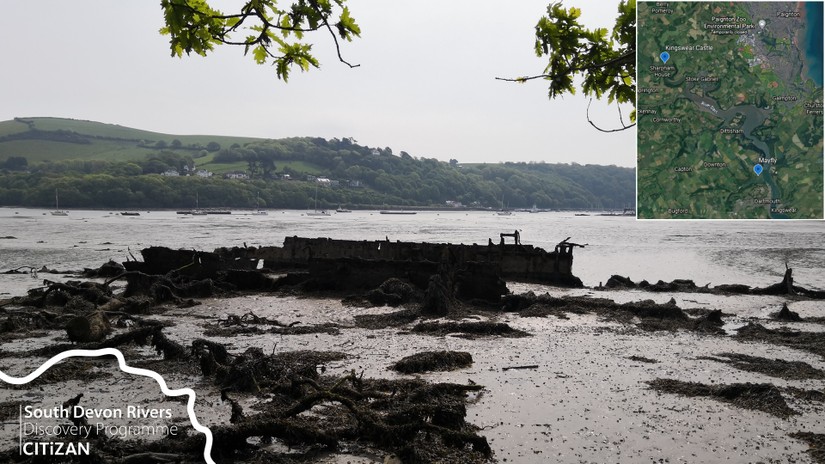 © CITIZAN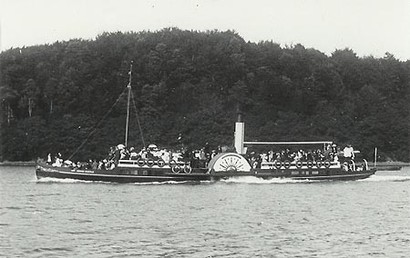 © http://www.simplonpc.co.uk/KingswearCastle.html#anchor44446
Enter our second vessel - the famous paddle steamer 'Kingswear Castle', 1st of its name, carrier of passengers, frequent focus of postcards and source of parts for its replacement of the same name.
This vessel is largely famous for its time in the River Dart Steamboat Company ferrying people around the Dart estuary and beyond from 1904 – 1923. Its time as a fever hulk, once stripped of its engines is not as widely known.
The Kingswear Castle was purchased in December 1923 to replace the Maylfy after being stripped of its engines for its laters succesor of the same name (currently afloat).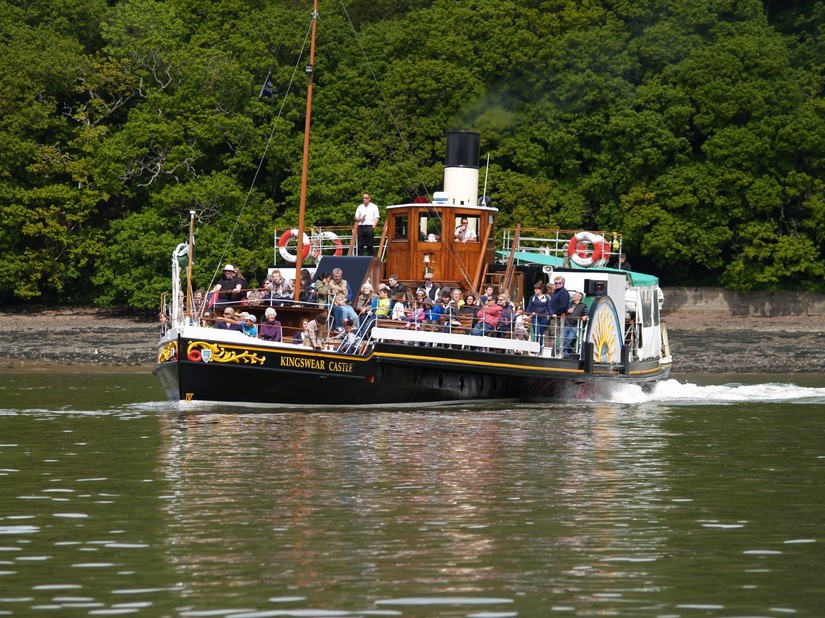 © Dartmouth railway & riverboat company
Its time as the replacement for the Mayfly was short lived. In June 1926 an inspector for the Ministry of Health Dr Yetts reiterated that the Ministry thought the use of hospital ships and isolation hospitals to be out of date and unnecessary. Following a series of back and forth over financial issues between the Ministry and the Port Sanitary Authority the Kingswear Castle was put up for sale in January 1927.

© MAT - Forgotten Wrecks of First World War
At this point there is a conflict in sources it was either purchased back by the original owners, the River Dart Steamship Company and subjected to further salvage or it was not purchased by anyone.
All we know for sure is that It was towed to its current position on the east bank of the Dart where it has lain ever since now overgrown but still obvious as a paddle steamer and is commented on by the passing ferries and people on pleasure walks.
So now you know, I hope this has gone someway to alleviate your boredom in isolation and when we are back out of isolation you will know the story of these two vessels and get involved with surveying them.
If you have enjoyed reading our blog make sure to let us know by email, comments etc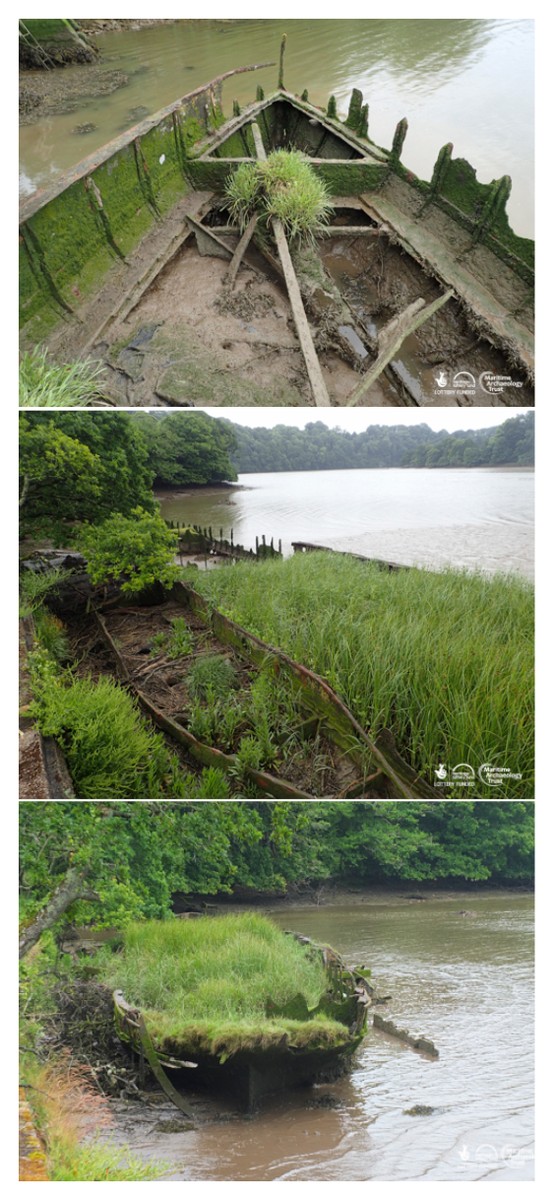 © MAT - Forgotten Wrecks of First World War
References

Brett, T. (2013). pscomptoncastle.com. Retrieved from pscomptoncastle: http://pscomptoncastle.com/page77.html
Dartmouth History Research Group. (2006 - 2013). Dartmouth History. Retrieved from Dartmouth History - a Dartmouth research group project: http://www.dartmouth-history.org.uk/dartmouth/main.asp
Keane, D. G. (2017). Dartmouth Hospital Ships. Dartmouth: Port of Dartmouth.
MAT. (2017). Hulks of Vessels used during the First World War, River Dart, Devon .
Small, M. L. (1988). Lost Ships of the West Country . Hampshire: BAS Printers.
Tognotti, E. (2013, Feburary). Lessons from the HIstory of Quarantine from plague to Influenza A. (CDC, Ed.) Emerging Infections Disesease, 19(2), 254 - 258. Retrieved from www.cdc.gov/eid
WAXMAN, O. B. (2020, March 09). The Grand Princess Has Docked in California. Here's What to Know About the History of Quarantine on Ships. Retrieved 2020, from Time.com: https://time.com/5799525/coronavirus-covid19-quarantine-ships-history/