Searching Mersea exhibition opens at Mersea Museum
26/07/2019 | Lawrence Northall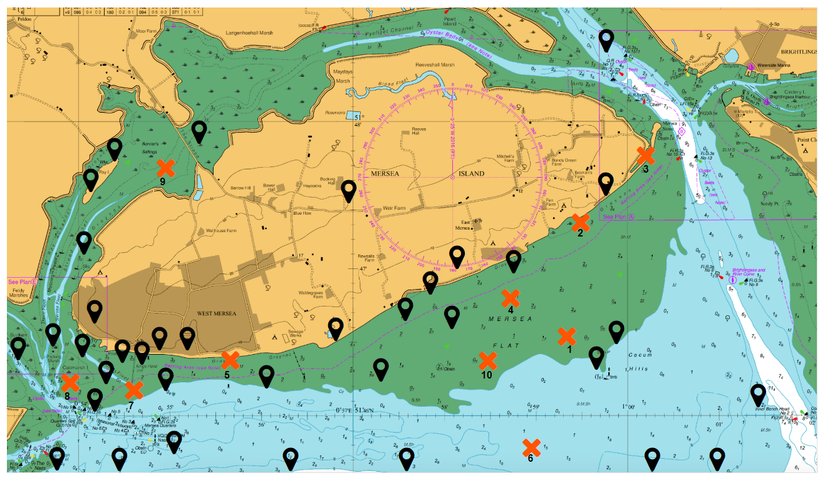 Three and a half years ago people on Mersea noticed an increase in objects and unknown features emerging from the mudflats around the Island. Strange wooden stakes appeared in uncertain patterns, bits of unusual looking handmade pottery were found in thicker concentrations and animal bones that resembled nothing roaming locally washed up with ever greater frequency on the foreshore. The unfamiliarity of the remains coupled with the remoteness of many of their finds spots gave them an air of mystery and a powerful atmosphere of 'worlds lost' or 'times gone by'. As it happened this feeling was more than appropriate since many of the finds turned out to be remnants of human activity and occupation from lost land surfaces which were hundreds or even thousands of years old. An intensification of coastal erosion caused by climate change and other elements was resulting in an acceleration of foreshore erosion, and everything the mud contained was going with it. The 'lost worlds' which layers of mud had protected for so long were being rudely awoken from their archaic slumbers and cast against their will into the water.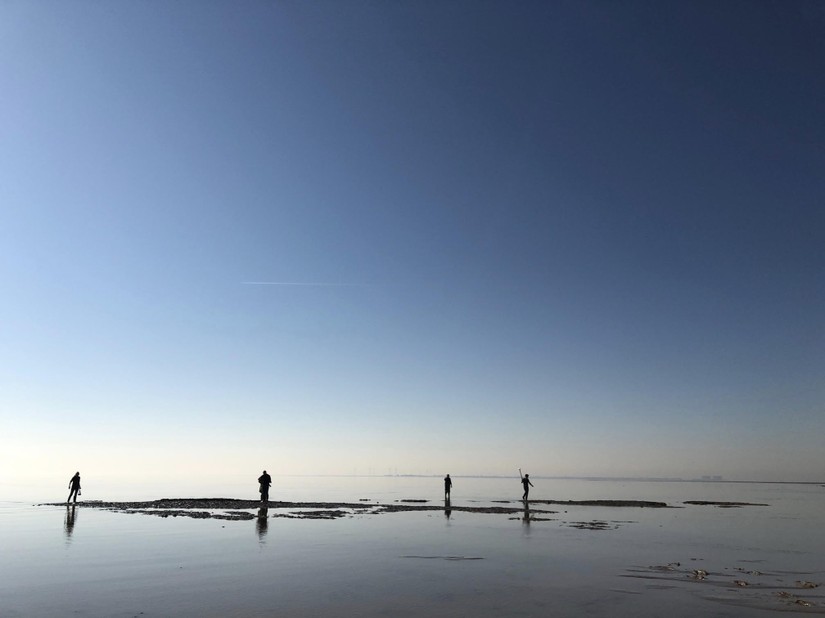 Needless to say when locals sought the help of CITiZAN to record the features before they disappeared, they were met with more than a little enthusiasm and it wasn't long before a community project was underway. The aim was to survey as many of the sites as possible before the same unrelenting waves that had exposed them smashed them to pieces and dragged them away. Naturally then there was a sense of urgency with the work and one which only increased as it became clear some of the finds may have held a special level of importance; it wasn't long before this level of importance moved from regional to national and at least one of the features was recognised as being entirely unique.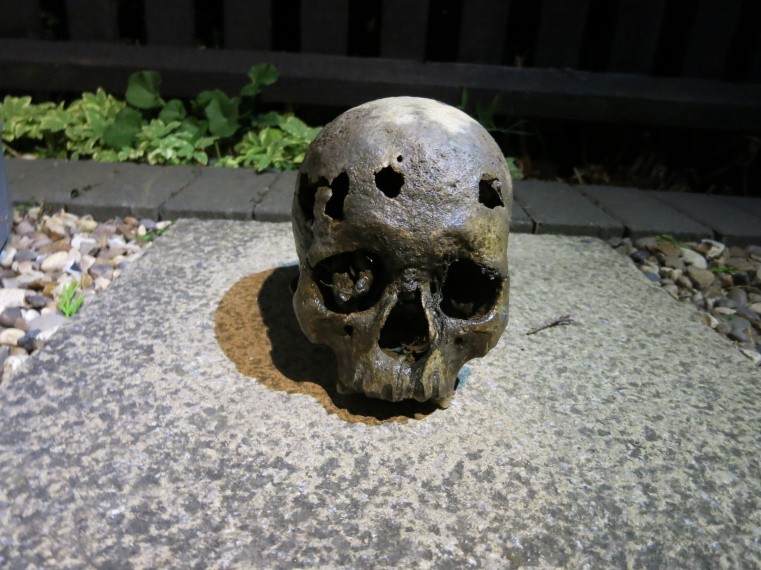 Iron Age skull found on the mud by local oysterman Daniel "Bubbie" French
Nobody had foreseen quite how rich the Mersea foreshore would be. A 10,000 year old Mammoth tusk, 4,000 year old sunken forest landscapes, a Bronze Age trackway on a scale unknown in the Thames estuary area, Iron Age burials, Roman remains, Saxon fish traps and even gun emplacements from WW2 falling out of the cliffs and into the estuary. It became clear that here there was a veritable mine of archaeological knowledge, an open air museum spanning thousands of years, fascinating in its intensity, its richness and scope.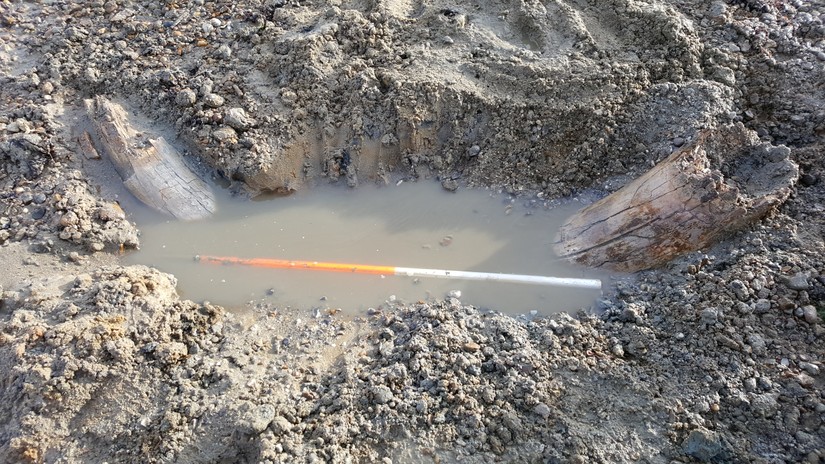 10, 000 year old mammoth's tusk found by local CITiZAN volunteer Mark Dixon
What also became clear though was that the people best qualified to navigate this 'open air museum', were those with the memories, stories and understanding necessary to interpret the foreshore. Or in other words the people that knew it best; the locals and visitors who had interacted with the Mersea coastline throughout their lives, or even over several generations. Whatsmore it transpired that despite the recent intensification of erosion, remains had been trickling out of the mud and washing away for many decades. The only record of these remained in what was picked up or remembered by those that found them.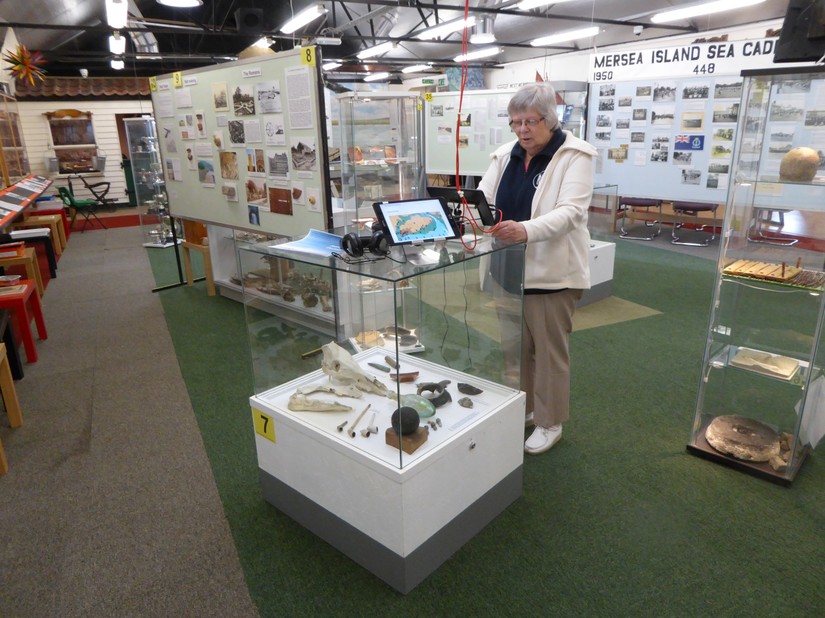 The Searching Mersea project aims to learn more about coastal change on the Island and the 'lost worlds' revealed by talking to the very people who have observed those changes. As an 'oral history' project it has involved recording conversations about personal experiences on the foreshore, people's memories and stories of how the coast has changed, as well as the objects found throughout this journey. Presented as an interactive map, the project encourages you to explore the stories and places yourself and to see what you find. Alongside this map there is an accompanying display at the Mersea Musuem of objects found on the foreshore. There is also a larger publically accessible archive of recordings.
To explore the interactive map online and browse the audio archive, please go to: