Red Sails in the Sunset: Thames sailing barges and their remains at Maldon, Essex
06/05/2016 | Lara Band
If you walk to the most easterly point of Maldon's Promenade Park, to the edge of the expansive mud flats that make up this part of the Blackwater estuary you'll be rewarded with a beautiful view over the estuary towards the National Trust property of Northey Island. You'll also be able to see, lodged in the intertidal muds, a fascinating group of over 15 vessels in various states of decay. As well as the remains of a lighter; a steel mooring pontoon, an Admiralty launch, two fishing vessels and several other vessels the remains or 'barge bottoms' of five Thames Sailing Barges lie here: William Cleverly of Rochester, built 1899; British Lion of Rochester, built 1879; Vicunia of London, built 1912; Pretoria of Faversham, built 1902 and Mamgu of London built 1904. It is these that give the site its local name: the Maldon Barge Graveyard.
Seeing the remains as they are make it difficult to appreciate the social and historical importance of these Thames sailing barges and others like them though anyone who has been lucky enough to see several together at a barge match, red sails unfurled, or moored together as at the Hythe, Maldon in the summer can recognise them as a thing of beauty.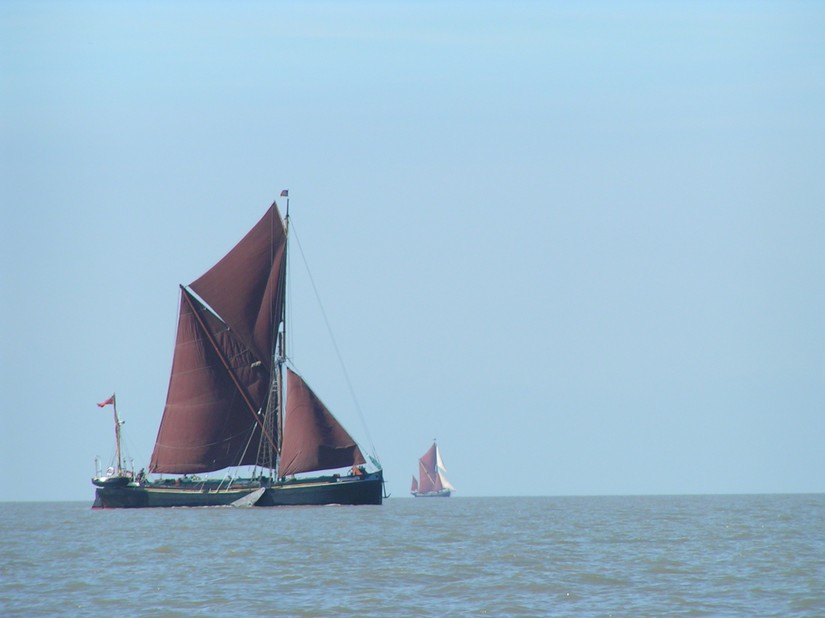 The hey day of Thames Sailing Barges was from the late 19th and early 20th century: in the early 20th century there were over 2000 barges registered. Fast under sail, they were an efficient and versatile means of transporting goods. Their design enabled them to sail without ballast and under heavy loads, while their flat bottoms allowed them to access shallow creeks and estuaries. Their rigging meant they could be handled by a two people, usually a man and a boy, though bigger barges required a crew of three. They carried building materials, agricultural produce and consumer goods to cities, returning with goods or with manure to spread on fields. They were, in effect, the heavy goods vehicles and short range container ships of their day, delivering cargoes all along the east and south coast of England as well as across the North Sea and over the English Channel.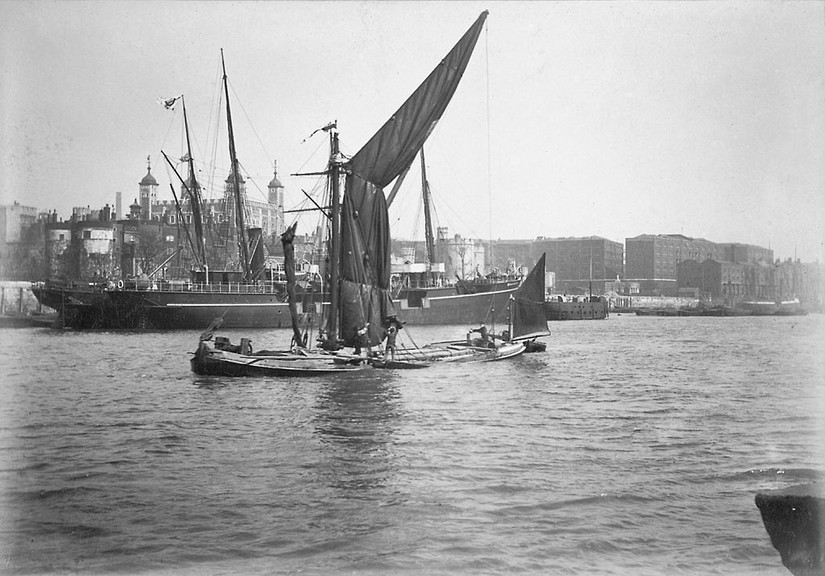 © National Maritime Museum @ Flickr Commons
The height of their trade was quickly followed by decline. The last wooden barge was built in 1928 and the last, less usual, steel hulled barge was built in 1930 at Mistley, Essex. Despite their decline however they still played an important role in the Second World War however. The small crew and use of wind power gave them an advantage when fuel and labour for other forms of transport were in short supply, some also served as Dunkirk Little Ships, mobile lookout platforms and moorings for barrage balloons.
But by 1954 only 160 were still in trade. Only 34 of these were fully under sail and the rest motorised or employing an auxiliary motor. Developments in road transport and container shipping had changed the way goods were transported, while time management in an increasingly commodified world favoured the predictability of delivery of goods by motorised means. And as barges disappeared so did the communities, and generations of barge builders, sail makers, owners and 'sailormen' that had grown up around them. Many barges were de-rigged and put to use as lighters. Some were bought by enthusiasts and turned into yachts, some became housebarges and others were simply laid up. A few barges continued in trade until the late 1960s; the last barge fully under sail, the coaster Cambria, traded until 1971.
The fate of the barges at Maldon's barge graveyard illustrates the general fate of Thames Sailing Barges. William Cleverly was converted to a yacht in the early 1960s. Mamgu became the clubhouse of the Marconi Yacht Club. Vicuna, having become a motor barge in 1939 was re-rigged in 1969 then became a housebarge. Pretoria was converted to a yacht in 1954 also became a housebarge. We don't yet know the full history of how they came to be left at the Barge Graveyard, though though British Lion and Mamgu were at the Graveyard by 1987 and, by 1996, all the barges were as lying there.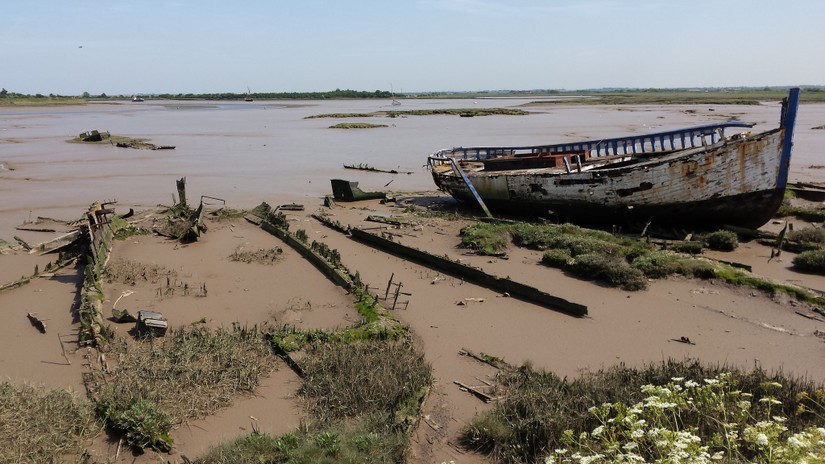 © CITiZAN
Just as the passing of the days of sail did not go unnoticed for tall ships, there was recognition as early as the 1940s that Thames Barges and their history deserved to be preserved. The Thames Sailing Barge Trust, from whom the general history of barges above has been taken, was founded in 1948 with Frank Carr, then curator of the National Maritime Museum, as the commodore. Their barges Pudge and Centaur are usually moored at the Hythe, Maldon and are definitely worth a visit. Another valuable interest group, The Society for Sailing Barge Research, was founded in 1963.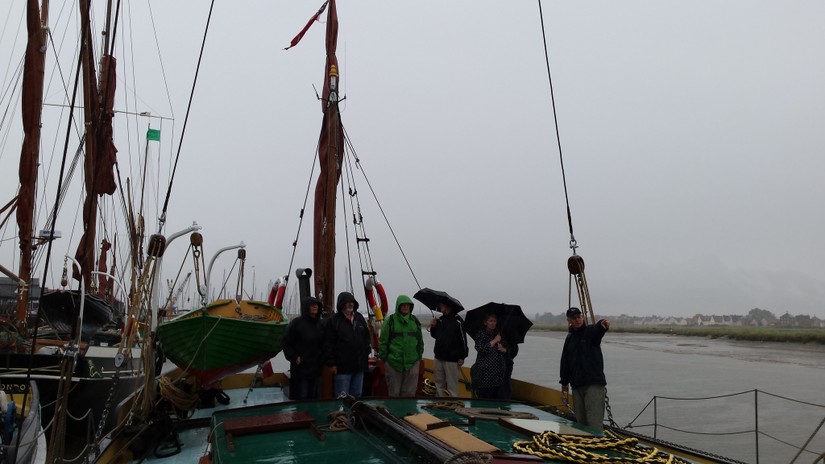 © CITiZAN
In February this year CITiZAN visited the Barge Graveyard to carry out an SUA, or drone, survey to provide us with views of the more inaccessible vessels. The survey has also given us an overall site plan to help with future work at the site including the now fully booked training event on the 13th - 15th May this year. During the visit we discovered that the February high tides had caused the upper part of the side of one of the unknown fishing vessels to sheer off and float away, a timely reminder of the importance of recording our intertidal heritage before it is lost forever.
Bibliography
Heritage Gateway [http://www.heritagegateway.org.uk/ Accessed 05.04.2016]
Medlycott, M. (ed.). 2011. Research and Archaeology revisited: a revised framework for the East of England. The Scole Archaeological Committee for East Anglia: Norwich
Pearce, Barry. 1995. Notes on wrecks in the Blackwater and Chelmer written for the Society for Spritsail Barge Research [Accessed via Maldon Tourist Information Centre, July 2015]
Society for Spritsail Barge Research [Society for Sailing Barge Research]. 1987. The Last Berth of the Sailorman
Swindale, Colin (pers. comm., email 18.08.2015)
Thames Barge Sailing Trust. Nd. Development of Sailing Barges [https://www.bargetrust.org/historical/development-of-sailing-barges Accessed 03.05.2016]
Wood, D and Wood, E (eds). 1996. Last Berth of the Sailorman. Society for Sailing Barge Research