Canvey Island: Thames Delta
02/12/2016 | Lara Band
With fieldwork done for the year here at Team South East, the focus is now mainly on desk based tasks. That doesn't stop my mind wandering out to the coast however: to the shining white cliffs and rolling grass of the Seven Sisters or to the vegetated shingle beach of Orford Ness made all the more dramatic by the huge sky and wild weather.

There's another part of the coast I love, less spectacular but no less evocative: the scene of childhood holidays, Southend on Sea, Essex. A walk on the prom, a blanket on a shingly beach, a paddle in the sea, cheese and tomato rolls gritty with sand, salty little legs sticking to boiling olive green vinyl seats of an Austin 1100. You could wander west to Leigh on Sea for their famous cockles or, if you wanted excitement, head east to Southend itself: the smell of fish and chips hanging over seafront shops packed with beachballs, buckets and spades; deafening amusement arcades; the train to the end of the pier and the replica Golden Hind with its terrifying waxwork tableaux.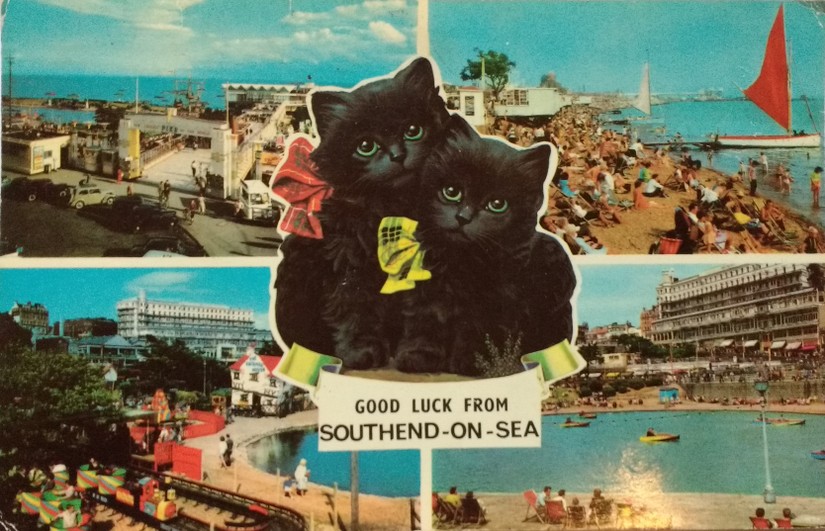 And another memory: sitting the beach and, with the geographical logic of a small child, staring over at France wondering what life was like on The Continent. It was a good few years before I realised France was actually Canvey Island and, beyond that, Kent. It was many years still before I began to explore the Thames Delta more fully: east to Shoeburyness and Foulness, west to Benfleet Creek and Canvey Island.
It's Canvey Island I want to write about here. Famously lying lower than spring tides, encircled by 14 miles of concrete sea wall and home to a sizeable petrochemical industry (the site of the world's first commercial delivery of liquefied natural gas, fact fans!) there's a lot more to Canvey Island than first meets the eye.
The island's name is Anglo Saxon in origin but evidence for occupation goes back further than, to the Iron Age and Roman. Three Roman and Roman British burial groups have been found on the island and the numerous finds of pottery suggest there might have been commercial import and/or export during the Roman period. Several Red Hills (salt working sites) have also been recorded on the island, one of which is now a Scheduled Ancient Monument. You can read more about the excavations of salt working features here and here on Canvey Island's excellent community website and see the Historic Environment Records for the burial groups and red hills at Unlocking Essex's Past.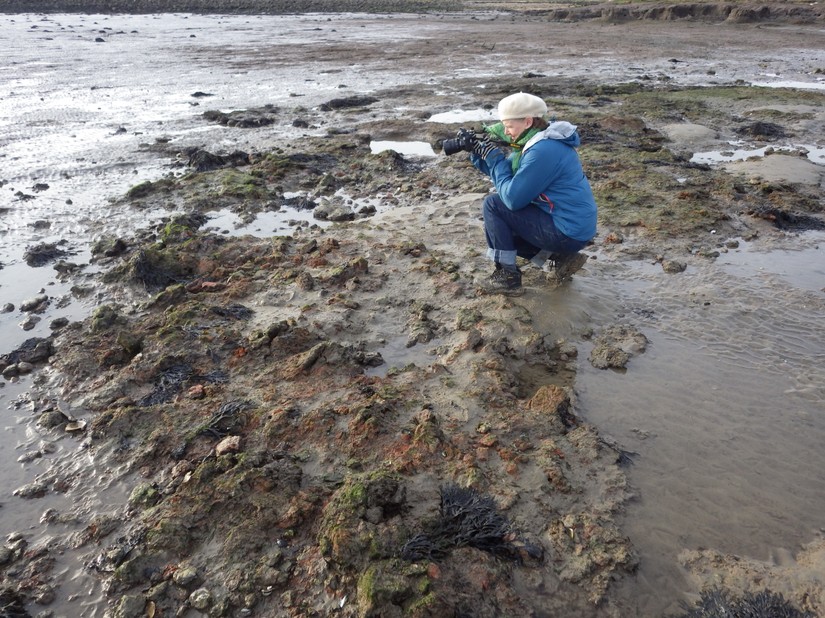 There's less archaeological evidence for occupation from the Anglo-Saxon period to the early modern periods. Canvey is not mentioned in Domesday but the 'pasture for sheep' existing as detached parts of manors on the coast of south Essex may well refer to land on Canvey Island. Cheese and wool from Canvey are mentioned in documents from the 13th century while the placename suffix 'wick', denoting in Essex a shed for cheesemaking, appears from the mid 13th century onwards. Topographical descriptions from the late 16th and early 17th century also note the island as low ground susceptible to flooding and mainly used for the grazing of sheep and for cheesemaking.

In the early 17th, to combat the flooding, a 300 strong Dutch workforce reclaimed 3,600 acres at Canvey Island and erected a sea wall (EHER 9800 and 7632). A considerable Dutch community grew up on the island though the only tangible remains are two 17th century cottages, both of which are now Grade II listed. There's also a Grade II listed timber framed and weatherboarded pub the Lobster Smac, dating back to the 17th century and mentioned by Dickens in Great Expectations.

Canvey remained predominantly sheep grazing land into the 19th century though following the arrival of the London, Tilbury and Southend Railway at Benfleet in 1855 the way was opened for Canvey as a tourist destination. At first it was mostly middle class visitors enjoying country pursuits including wildfowling but the agricultural depression of the 1880s, coinciding with episodes of flooding led farmers to sell off their land at low prices and development began.

Frederick Hester's grand plans to build a holiday resort complete with Winter Gardens, a pier, and an electric tramway were hampered by flooding in 1904 and he was declared bankrupt. Creditors took over the land and much of his work was dismantled though remains of his pier, at least, can be seen at low tide next to the jetty of Chapman Sands sailing club.

Development of Canvey as a sea side resort continued in the inter war period: in 1932-33, as part of new sea wall works, the engineer Ove Arup designed and built a modernist pavilion, now called the Labworth Café and Grade II listed. It's noted in the list entry as a pioneering building of the Modern Movement, predating Lubetkin's Gorilla House and Tecton's Penguin House, at London Zoo. Another notable building of this period is the Art Deco Monico Hotel, built in 1938. It was coupled with the Art Deco fronted Casino amusement park, demolished c. 2008.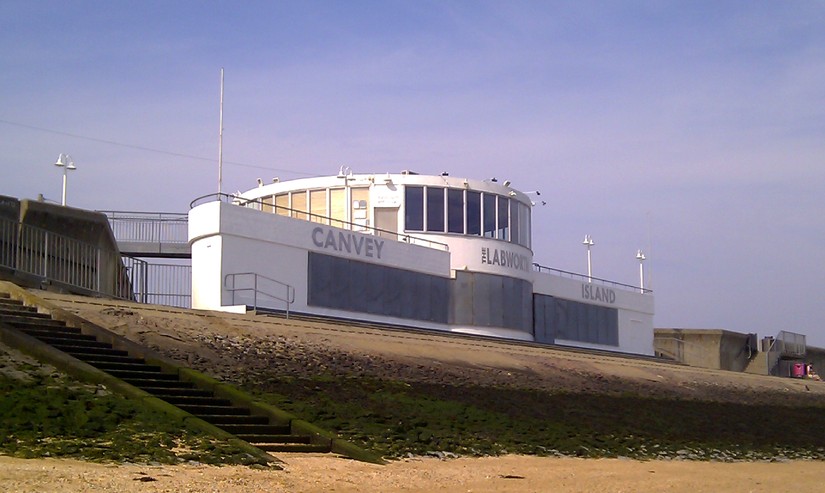 © Lara Band
Canvey occupies a sadder place in post war history too. Most of the dwellings on the island were light chalets or bungalows, built following the sale of plotlands in the early 20th century. This local architecture, coupled with the very low lying land, resulted in Canvey being the worst hit community in the 1953 flood: with the water up to twenty feet deep in some areas, 59 people lost their lives.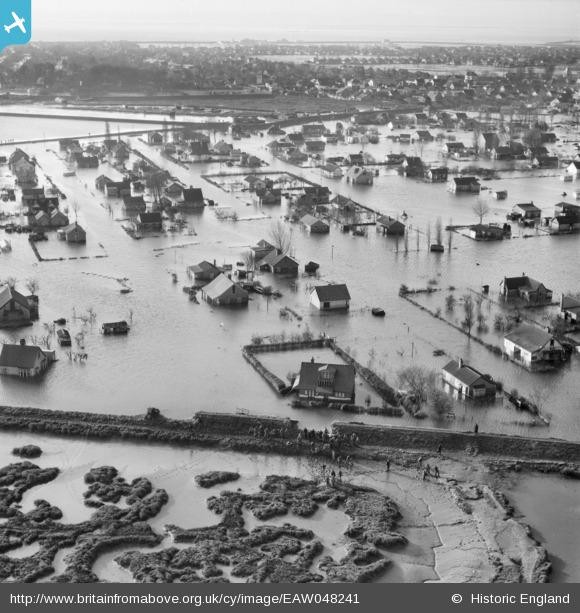 © Britain from Above
For a more recent view of the history and intangible heritage of Canvey Island you could do worse than watch Julien Temple's film Oil City Confidential, a history of Dr Feelgood, 1970s R&B rockers and "the best local band in the world".

I'll end here by saying it's well worth a wander round this unsung part of the Essex coast. Visit from your armchair through the community website www.canveyisland.org: packed with articles, local histories, oral histories and images, it's an excellent resource. Or take yourself off to Canvey for real, jump off the train at Benfleet and set off on a circular walk around this overlooked part of the Thames Delta.
Bibliography
Barsby, Geoff. 1992. Canvey Island. Phillimore & Co. LTD.
Tyler, Sue. 2009 2009. Canvey Island Seaside Heritage Project: Historic Urban Characterisation
Report Essex County Council
Waterson, Jill. 2012. Canvey Island, Essex, 1911
White's Directory of Essex, 1848