Oldbury-on-Severn
In fluvial and estuarine environments the quick deposition of material in flood events coupled with wet or waterlogged conditions can provide the perfect conditions for the preservation of archaeological sites. However they can also be very destructive, with the constant erosion caused by the velocity of the stream. Oldbury and Hill Flats are located along the east coast of the Severn Estuary and are separated by 13km with Hill flats situated to the north.
Evidence of Roman occupation at Oldbury and Hill flats in plentiful, excavation at Oldbury in 1992 found evidence for timber buildings of both a domestic and ancillary purpose, a cemetery which may have been bounded by a stone wall, and an iron working industrial site (Hume 1992, 98). Artefacts from the 1st to 4th centuries AD were identified suggesting that this was an established settlement and the diversity and wealth of the pottery suggests that this site was on a trade route (Hume 1992, 98). Artefacts from Hill Flats have also been found but the nature and quantities of these would suggest that Oldbury was the larger settlement. The full extent and nature of Hill Flats and its relationship to Oldbury is still unknown, therefore ongoing research into these is vital to improve our understanding of the landuse of the Severn Estuary in this period.
The pottery evidence for post Roman occupation declines at Oldbury and it would appear that the larger Roman settlement shrunk, and the focus of occupation during the medieval period shifted upstream to Hill Flats. Further evidence for this was provided by the identification of a series of stone work which has been interpreted as a Medieval quay and radiocarbon dated by stratified pottery and a wooden fish trap to 650 +/- 50 BP, calibrated to 1280-1410 AD (Beta 61770) (Allen 2003, 201). This shift in occupation may be related to the castle at Berkeley, built in the late 11th century to defend against the welsh (NHLE 1340692).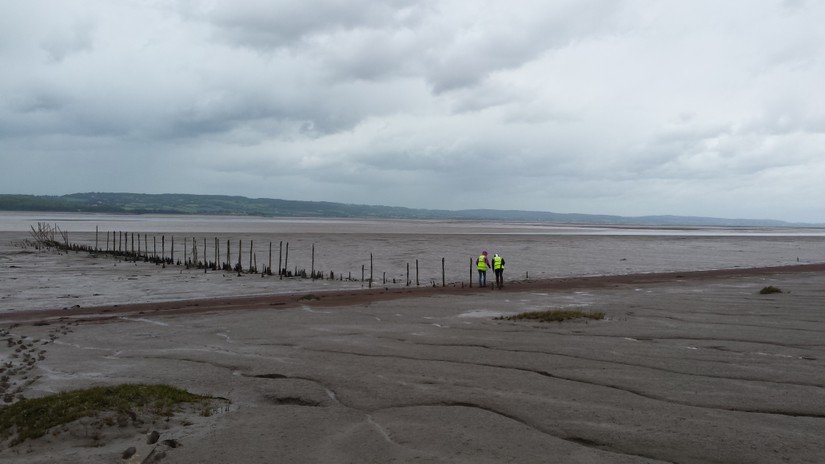 There are also a large array of fish traps which have been identified along the foreshore and intertidal zones of the Severn Estuary. Types of these include stone built fish weirs, wooden stake and wattle traps, v-shaped traps and evidence of Putcher and Putt fishing.
The structures were either built facing up or down stream to catch fish as the tide came in or went out. Some of the earliest structures are the v-shaped fish traps, examples of these at Oldbury-on-Severn have been dated to the late 7th early 8th century AD.
Examples of later fish traps have been dated to the 11th-13th centuries, these are often examples of a circular basket at the apex to catch the fish. There is a complex group of structures from several different phases at Oldbury. Older v-shaped traps as well as an unusual T shaped structure dating to the post-medieval period are both present in addition to Putt and Putcher fishing methods which are more recent. Using conical shaped baskets placed in rows, sometimes four or five high, in a wooden rank against the tide. This method is very common in the Severn and is still practiced today, originally made using locally grown materials they are now made of steel or aluminium.
This area was highlighted as requiring further work in the RCZA, it would benefit from detailed planning, not only for preservation by record but also to help improve our understanding of the construction and phases of these fishing structures.